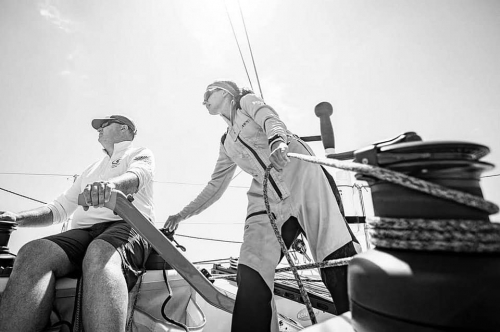 © Dragon Ocean racing
S'ils n'étaient que 2 Class40 à prendre le départ de la Bermuda 1-2, 23 bateaux participaient à cette course en deux étapes.
Michael Hennessy (Dragon) s'impose sur la première étape (en solitaire) entre Newport, Rhode Island, et St. George's, Bermuda, non seulement en Class40 mais également en temps réel, toutes catégories confondues, en 4 jours et un peu plus de 4h, soit plus de 10 heures, en temps réel, sur son dauphin.
Pour l'étape retour, cette fois en double, Tim Kent (Kent racing #34) embarque Catherine Chmney et Michael Hennessy est rejoint par Cole Brauer. Dragon réitère l'exploit de la première étape : vainqueur toutes catégories en temps réel (avec cette fois plus de 20nm d'avance) et donc en Class40 ainsi qu'en classe 5, sa catégorie en temps compensé.
Les mots de Cole à son arrivée :
"Another win for Team Dragon!! Leg two of the Bermuda 1-2 completed and…this time 29 miles ahead of the second place boat!
The race: consisted of 664 miles of cold fronts, weak lows, thunderstorms, squalls, and light light winds if any. We spent the majority of the race moving the stack forward or aft instead of side to side. Our stack weighs about 400lbs, some of it consists of sails on the deck, extra hardware, tools, electrical and mechanical spares, provisions including water and freeze dried (the lightest thing on the boat), we move the jerry cans, the small anchor (class 40s must have two). We even move the med kit and our bean bag chair that we sleep on all around the boat to assist with weight placement. We have two ballast tanks with the ability to pump hundred of gallons of water into the boat (a scary thought sometimes), yet with all the stack stacked the two ballast tanks filled, and two reefs in the main, when a midnight squall came through we worked extremely hard to keep her upright and running down the rhumbline!
Weather and routing: 8 out of 10 models showed get far west of the rhumbline and then connect back later yet Mike and I took a chance to just cut out miles and run straight down the rhumbline. We worked tirelessly with sail changes to make sure we kept her going in that same compass heading even through light and heavy air. It seemed to have paid off! Check out our tracker on YB racing under Bermuda 1-2!
Team dynamic: Michael Hennessy and I worked constantly to get as much rest as we could but still push the boat. Mike and I do our own sail changes throughout the race, if a sail change was necessary during ones shift it got done. Sometimes we assist with shaking reefs out because shaking a reef out is actually the most amount of work that comes from any sail change (I believe) on Dragon. Without a coffee grinder it takes what feels like a lifetime to grind the sail up, especially when it comes to shaking two reefs out…so much sail area! Yet with the new ONESAILS by Mark Washeim, our new main only weighs as much as I do!! Crazy new technology! Thanks Mark! Anyways, I love working with Mike, we don't see each other that often on the boat which is great since we both like to be alone haha doublehanded sailing is just sailing solo half the time."