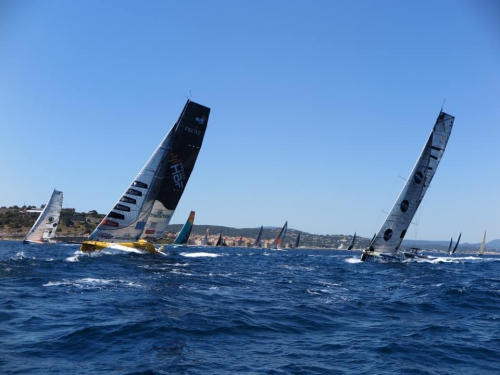 © Paprec 600 Saint-Tropez
Second race of the season, second victory for Kito de Pavant and his Class40 Made in Midi! Teaming up with Sandrine Revil, they crossed the Paprec 600 finish line in the early hours of the morning at 5h 08m and 10s, off Saint-Tropez. Neck and neck for more than three days with Ivica Kostelić's Croatian Class40, Kito and Sandrine managed to take the lead 40 miles from the finish, after a long Mediterranean triangle around Corsica.
A great battle with the Croatians
"We had little wind, little sleep and a lot of fighting," says Kito in the port of Saint-Tropez. It was a four-day yo-yo with the Croatians, who have a boat of the same generation as Made in Midi. We were on sight all the time. All along the course we'd come within a few lengths of them and then they'd go off again and so on. It was great to team up with Sandrine Revil, who did a lot of manoeuvring and put in a lot of energy. She was at 300%, you could see that she does a lot of sailing, she's passionate and she's just won her first Class40 race. It was a bit tiring though because light airs are tiring. But Corsica is so beautiful! It's always fantastic!"
"I'm really happy, it's great to have won this Paprec 600," adds Sandrine. It was difficult, because there wasn't much wind and these boats are more suited to breezy conditions. We had to play hide-and-seek with the easing and reefing, zigzagging to the minute. But as the days went by we started to get used to the way we were on the boat and on the last run up, which was just as complicated, we were really into it. It was just fantastic, Kito and I got on really well and I loved the boat, which is really well thought out."
A growing international Class40 fleet in the Mediterranean
"On the first day, on the crossing between Saint-Tropez and La Giraglia, virtually all the boats were within sight of each other. It was interesting to see that Blue Planet, a first generation Pogo - less powerful but narrower at the waterline - did really well in light airs and finished 3rd. These regattas allow some of the older boats to get into the game. The most recent boat was the Italians' 171 Imagin'Act Socomec. I think they were discovering the boat in this race. They were 30 metres behind us as we passed the Giraglia and finished 40 or 50 miles behind us. They found a sponsor in Strasbourg who invested in Class40 because there was this Mediterranean Trophy. And what's also really good and super rare is that there are 50% foreigners: 2 Italians, 2 Croatians, 1 Belgian, 1 German, 1 Portuguese and therefore 7 French including one woman, Sandrine".
Victory in the Paprec 600 Saint-Tropez enabled Kito de Pavant to take first place in the Trophée Méditerranéen 2023. Next race, the Massilia Cup Offshore Trophée Corsica Med at the end of June.
Ranking of the race : Paprec 600 saint Tropez - Class40
Ranking of the mediterranean trophy : 1mediterraneantrophy23postpaprec600.pdf (class40.com)
Source : Made in Midi