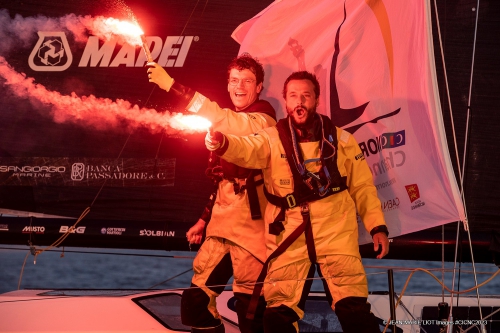 © JM Liot #CICNCR2023
After last night's impassioned struggle around Le Raz Blanchard and a final sprint across the Baie de Seine, ultimately victory went to the Class40 Alla Grande Pirelli (181) in this 14th edition of the CIC Normandy Channel Race. Skippers Ambrogio Beccaria and Kevin Bloch crossed the finish at 04 hours 18 minutes and 01 UTC. They finished just 33 minutes and 50 seconds ahead of Crédit Mutuel. Ian Lipinski and Antoine Carpentier secure silver in this race of uncompromising intensity from beginning to end.
Despite the fleet remaining very compact as the skippers constantly jockeyed for position throughout the course from France's north coast, across the English Channel and down the south coast of England and then Ireland, via Tuskar Rock and the Fastnet and back to north-east France, the Italo-French duo has constantly been at the front of the pack. Enjoying an intense start to the race, in breezy conditions, the fleet ticked off the first tricky sessions of the course at high speed, the leaders alternating according to the strategic choices at play. It was only during the slog up the Celtic Sea after managing to be first to extricate itself from a zone of calm conditions created by the wind shadow off Land's End, that Alla Grande Pirelli really got a good grip on the top spot. Always demonstrating impeccable timing, linking together a series of wise tactical choices and extremely clean trajectories, the talented Italian skipper and his brilliant French co-skipper managed to control their direct rivals and keep on top of their game.
It was only once the Scilly Isles was behind them on the sprint for home that the face of the race changed. Already shattered by a full-on descent of the Celtic Sea and an intense struggle, the sailors were scooped up by a sustained and vigorous NE'ly wind, which punched into them with all its force and tried to catch them out with up to 36-knot gusts, amidst a backdrop of hard to manage heavy seas. In a final affront, they had to contend with a strenuous climb up the English Channel to Ouistreham, which saw them having to snake around the Channel Islands and along Le Raz Blanchard. Today's winner negotiated these two tricky sections with incredible finesse and courage right to the last.
"We're thrilled with this victory! We were the first to pass quite a few course marks, but we said to ourselves that what counted most was the passage across the line. It was vital to sail with our foot to the floor as they were pushing hard behind. It was a stellar line-up and it's a very demanding course. It's the most important of the season for us after the transatlantics as they were pushing hard behind and we were clearly in it to win it. It's a major asset in our sailing career to take the win here," enthused Ambrogio Beccaria and Kévin Bloch at the finish in Ouistreham.
When you know how demanding and intense the CIC Normandy Channel Race is, this second consecutive victory on Norman soil demonstrates the level reached by Beccaria and Bloch and the finesse with which their Class40 Alla Grande Pirelli was handled.
A much deserved second place went to Ian Lipinski and Corentin Douguet, who posted a splendid start and were also at the front of the pack throughout the race. "We're proud of this second place. Our boat is beginning to get a bit dated now as the oldest of the scow bows, so we're happy with our result, even though we'd obviously have preferred to do better. We're very pleased for Ambrogio and Kévin. They sailed a better race than us, so it's normal for them to win this CIC Normandy Channel Race," said the magnificent runners up in this CIC Normandy Channel Race 2023.
The Class40 Legallais (190) skippered by Fabien Delahaye and Corentin Douguet, completes the podium. The six champions have treated us to an eye-popping spectacle right to the final mile. Hot on their heels, Project Rescue Ocean (Axel Trehin / Nicolas Troussel – 162) finished 4th, La Manche Évidence Nautique (Nicolas Jossier / Alexis Loison – 185) 5th, IBSA (Alberto Bona / Pablo Santurde del Arco – 186) 6th, Vogue Avec Un Crohn (Pierre-Louis Attwell / Maxime Bensa – 195) 7th, Think Big – Think Social (Lennart Burke and Melwin Fink – 189), Crosscall (Aurelien Ducroz / Vincent Riou – 166) and Tquila (Alister Richardson and Brian Thompson – 159) complete the top ten.
General ranking : CIC Normandy Channel Race - Class40
Source : Sirius Evenements