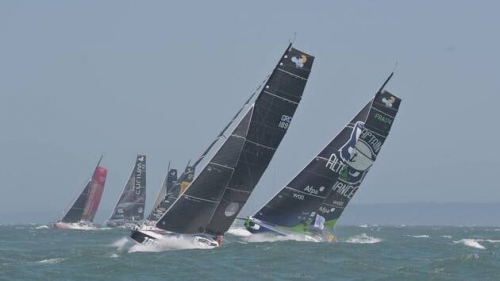 © Jean-Marie Liot / CIC Normandy Channel Race
The result of collaborative work carried out between the Class40 and Ultim Sailing since 18 months, a new transatlantic is born.
Dedicated to Class40 sailboats, it will connect Belle-Île-en-Mer (Morbihan) to Marie-Galante (Guadeloupe). The start will be given on April 7, 2024 in the bay of Le Palais.

Officially presented at the last General Assembly of the class, on March 11, and integrated into its 2024 calendar, this race will be run with a crew of three and essentially in downwind conditions which are perfectly suited to these boats whose development isn't denied.

Beyond the local authorities concerned on both sides of the Atlantic Ocean, a determined and enthusiastic title partner was missing.

The Niji company, whose head office is based in Rennes, was quickly won over by the project for this new transatlantic. With more than 1,200 employees combining consulting, design and technological implementation, the company supports the digital transformation of companies in all economic sectors and of all sizes, from idea to reality.

The Niji 40, official name of the race, begins its countdown today before the big start in just under 300 days. With a four-year rhythm, the Niji 40 aims to become a Class40 classic.

For Hugues Meili, co-founder and CEO of Niji: « Niji has been regularly associated with offshore racing for many years ; participate in the creation of a new event, dedicated to a class of sailboats which is increasingly imposing itself on existing circuits, and does not yet have its own dedicated transatlantic, in an unprecedented crew format allowing mixing seasoned champions with promising young talents, as in our company, is a motivating project. Personally very attached to the two islands that the race will connect and which have so many similarities, I am delighted to combine the best of what are already Niji's commitments ».
For Cédric de Kervenoael, President of the Class40: « For its 20th anniversary, the Class40 could not have hoped for a better gift than a crewed transatlantic race taking part of its fleet from Belle-Ile-en-Mer to Marie Galante before joining the Atlantic Cup and the mythical Québec Saint Malo. The Niji 40 makes it possible to offer runners an alternative to The Transat CIC, which it completes in terms of offer. By associating its name with this event, Niji offers to Ultim Sailing and the Class40 to make this Transatlantic a great success on the media and sporting level without forgetting the festive aspects in Belle-Ile and the discovery of Marie Galante that a minority knows. I wish the best for this new event and thank Hugues Meili, as well as all the stakeholders for their commitment alongside the Class in this wonderful adventure ».

For Emmanuel Bachellerie and Mathieu Sarrot, associate directors of Ultim Sailing : « We were keen to imagine and produce one of the races that was missing from the four-year Class40 program. An oceanic format for these incredible machines with now unbridled legs, crew to extract the quintessence of their degree of performance, an exclusive format for these 40-foot monohulls whose growth curve is exponential. The reception from local authorities was enthusiastic. All that was missing was the title partner that Niji endorses wonderfully as his commitment to us has not been denied since we started designing this project ».
About the NIJI 40 :
• First crewed transatlantic race (x3) exclusively reserved for the Class40
• Starting line in Belle-Île-en-Mer (Le Palais) on Sunday, 7th April 2024
• Distance 3430 nautical miles
• Arrival Marie-Galante (Saint-Louis) from April, 21st
• Amount of registrations : 4 320€ excluding tax
• Prize for runners : 50 000 € minimum
• Organizer : Ultim Sailing