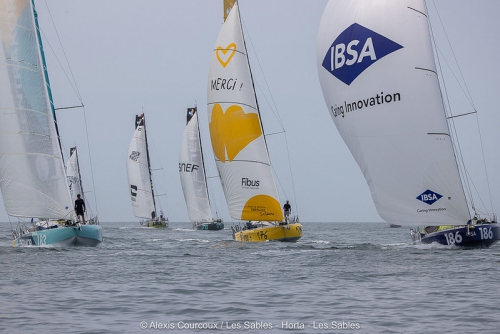 © Alexis Courcoux / Les Sables Horta
As scheduled, at 13h02 on Tuesday 27th June, the start of the Les Sables - Horta - Les Sables race was given off Port Olona. Propelled by a north-westerly flow blowing gently at between 5 and 6 knots, the sixteen duos set off towards the Azores with a total of 1,270 miles to cover. Alberto Bona and Pablo Santurde del Arco (IBSA) got off to a very good start and were the first to round the clearing mark, before handing over to Achille Nebout and Gildas Mahé (Amarris) as they headed out to sea. Offshore where, very quickly, the first difficulties will begin to jostle each other, even if this first leg promises to be all about speed. As proof, from tomorrow morning, a ridge of high pressure is set to play spoilsport in the Bay of Biscay. This could well create the first significant gaps in the fleet!
"The weather conditions are really favourable for this first leg, with a high-pressure situation and downwind sailing. We're happy, we like it. We know it's going to be a lot of fun and a great first leg," says Xavier Macaire, the skipper of Groupe SNEF, who is expecting a fast first leg, but certainly not as easy as it looks. "Good conditions don't mean simple. There are going to be a few pitfalls after all. In particular, we're going to have a zone of light air to get through tomorrow. We're going to have to deal with the vagaries of the wind, some unreliable data and certainly some surprises", announces the sailor from Sablais. A scenario confirmed by Christian Dumard, the race's weather consultant. "It's going to be very tricky, because while the racers will initially be sailing to the south of the ridge of high pressure, they'll then have no choice but to cross it. The result will be a tricky phase, likely to break up the fleet a little. "It's going to be important to negotiate this phase well before the passage of the front, because after that, things are clearly going to go fast up ahead," explains the former Figaro racer, well aware that this tongue of high pressure will be the first obstacle to overcome in this first round. A round which, although it promises to be straight or almost straight, will not be as elementary in reality as it is on paper. "When you get the impression that it's a straight trajectory with no change of tack, it's generally quite misleading. Managing to get out of the Bay of Biscay will be no mean feat and those who manage to catch the front before the others will undoubtedly take the lead", assures Corentin Douguet (Legallais) who, like the others, will have to be opportunistic, but not alone, between now and the time they round the north-west tip of the Iberian Peninsula.
Demonstrating finesse
"We're going to have to be subtle in our trajectories and find the best route compromises. Over the next few hours, the game isn't going to be very strategic, but it will be quite fine-tuned in terms of positioning. You're also going to have to be fully concentrated on driving and trimming," notes Mikaël Mergui, the skipper of Centrakor, the title holder with Antoine Carpentier, who is also well aware that the first 36 hours of racing are going to weigh heavily in the balance. "We're really going to have to be on top of things from the outset because once we're downwind in a strong wind, there will be far fewer opportunities to come back, even though the finish in the Azores is likely to be a key moment too," explains Pierre-Louis Attwell (Vogue avec un Crohn), who is hoping to shake up the big names in the circuit and make the most of the potential of his new boat, which he picked up just a few months ago. "The competition is fierce and the route to the Azores is full of small crossings and key points that we won't want to miss. In the end, the most important thing will be to manage to limit the time gaps," adds the sailor from Normandy, whose routing has changed somewhat since yesterday. Indeed, while they suggested that the frontrunners would arrive in Horta in less than four and a half days, they are now slightly less optimistic. Nonetheless, this first section could still be completed in just five days for the leading boats, which is still extremely fast and promises a great battle from start to finish!
Baptiste Hulin (AMIPI Foundation): "This is the first race for the project and the boat. The date of 27 June has been in the back of our minds for some time now. We can't wait to get out there and stretch our rudders, especially as it promises to be a pretty intense race. At the start, there won't be too much wind and that's going to require concentration in the trimming. After that, a small front will come in with a fair amount of air. We're really going to be able to test the boat's full potential, so that's cool. I did the Route du Rhum - Destination Guadeloupe on a pointy end. This is my first race on a scow-type boat. I'm really looking forward to seeing what she's got up her sleeve. What's for sure is that we've got everything we need to have a great time. It's going to be really interesting to be up against the best in the fleet, who are almost all here. It's going to allow us to test a lot of things, but also to continue learning, because that's really what we're here for. I don't know Horta. It's an extra incentive to arrive as quickly as possible and spend as much time as possible on this island.
Kéni Piperol (Captain Alternance): "It's going to be cool. The format is a perfect rehearsal for the Transat Jacques Vabre and the weather looks good. We're going to be able to learn a lot about the boat and get our bearings sailing double-handed with Thomas (Jourdren). It's going to be great. I think the start is going to be really important. The first few miles are going to be pretty complicated. We're going to have to be opportunistic. After that, it's going to be all downhill until we land in the Azores, where it's likely to be very slack. We're going to have to time our sleep so that we're fresh at the finish. We're going to try to gauge each other and see where we stand. Nothing will be decided until the finish. That's what's so cool about it. We're going to have to tacticalise to get the best out of the game. As far as I'm concerned, this will be my first time in the Azores. I'm looking forward to enjoying this beautiful course.
Erwan Le Draoulec (Everial): "It's going to be a fun, fast race. A bit tactical at the start before a nice descent in powder afterwards. It's great. We're going to enjoy some really good conditions and we're going to have a great time. Our big goal this year is the Transat Jacques Vabre. Over the past few months, we've made a lot of modifications to the boat. She's just come out of the yard as we launched her a week ago. The idea is to validate what's been done and finish the race. If there's a way of doing well, we won't hesitate, obviously.
Olivier Gamot (Yala): "For Jérôme (Ragimbeau) and I, this Les Sables - Horta - Les Sables is our first Class40 race. We're still getting to know the boat. So far, we've sailed 600 miles on board, no more. The idea is to get her going as best she can. In the fleet, there are four point-to-point boats, including us. It promises to be a match within a match. The weather looks great, but above all we're looking forward to the sailing. Neither of us has ever been to the Azores. It's going to be a real discovery. Not so long ago, we were still struggling to place the archipelago on a map. Now we're going. It's really exciting. It's going to be nothing but fun!
The tracker: Cartographie (lessables-horta40.fr)
Source : LSOVCL