The UK Class 40 scene has been growing steadily over the past year and, with the added help of the newly established UK CCC40 calendar, it is only going to get bigger.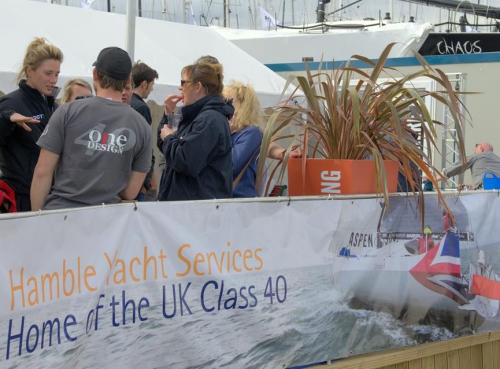 To promote the CCC40 and Class to a wider audience, Ancasta held a Class 40 demo day at HYS last Saturday. A high attendance and the help of Team Concise, Swish and 40 shades of grey ensured that the day proved to be a great success.
Each boat represented a different generation of the class and gave the guest the opportunity to gauge which level they would be most suited to.
The CCC40 has been specifically designed to provide an exciting weekend race calendar, encouraging old and new boats to leave the dock and race on a level playing field under the new vintage Class 40 handicap.
The guests arrived on HYS' newly decked area between 10 -10.30 where we greeted them with coffee and pastries from Yacht Catering, and gave a quick de-briefing. With roughly 40 people all looking forward to experiencing an exhilarating sail in the Solent, we were extremely lucky to be able to take clients out on Forty Shades , kindly helmed and owned by David Pearce and Swish, belonging to Rod Knowles and helmed by Rod and Paul Peggs. We were also extremely lucky that the wind decided to up its tempo as the boats were launched and the first group of enthusiasts set off.
While some were out sailing, others were able to take a close look at 'Concise 8' a Ker Class 40 which is berthed at HYS. Skipper Ned Collier Wakefield was on hand to offer a guided tour and as a class director was able to advise on different aspects of the Class. A Boston Whaler and a RIB were employed to take our guests out to the boats and complete the swap overs before bringing the previous groups back to HYS. After everyone had indulged in the opportunity to sail on either one of the boats, with the weather bestowing its very best efforts, we all enjoyed a barbequed lunch and the odd beverage or two.
Representatives from North Sails, Protonus and High Performance Charter's were onsite to mingle and promote their products. Team Concise's Tony Lawson was nominated chief barman and kept the guests entertained with authentic rum punches.
The collaboration of all involved in the day directly reflects the friendly ethos of the class and has helped to promote the Class 40 community to a broad range of sailors and boats owners.