Victorien ERUSSARD and Thibaut VAUCHEL-CAMUS participated in every race of the calendar and demonstrated a remarkable consistency.
Winner of the "Record SNSM", 2nd of "Les Sables-Horta" and "Grand Prix Guyader" and 3rd of the "Normandy Channel Race", the blue boat is on every podium!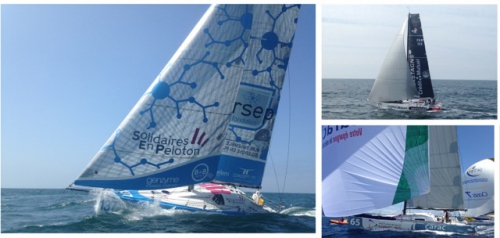 However, Nicolas TROUSSEL, was in the lead of the Championship after winning the 2 first races of the season - Grand Prix de douarnenez and Normandy Channel Race- but , as the Class40 "Crédit Mutuel de Bretagne" did not take the departure of Les Sables-Horta, his skipper slipped back to 2nd place.
Louis Duc, skipper of Carac Advanced Energies, complete the podium, just one point behind Nicolas. It's a nice 3rd place, even a temporary one, for an older generation boat 3rd of Record SNSM and of the leg Horta-Les Sables!
But, for the moment, nothing is yet decided!
The duo Yannick Bestaven and Pierre Brasseur (Le Conservateur) needs only one single point to make the podium.
Bertrand Delesne on TeamWork 40, may hope to be on the podium too for his second season on the Class40's circuit.
We will have to wait for the result of the The Transat Jacques Vabre, next and last race of the official calendar, to know the name of the 2015 Class40 Champion!
Temprary ranking : http://www.class40.com/fr/classement/