- Le Conservateur and Carac Advanced Energies complete the podium
- 2016 Race Programm
- 26 Class40 changed hands 2015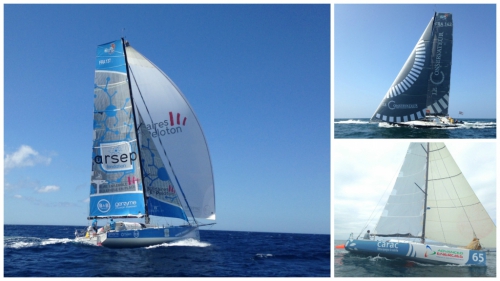 A very competitive championship !
Second of «Grand Prix Guyader » and «les Sables-Horta-Les Sables», third of the «Normandy Channel Race», winner of the «Record SNSM» and fourth of the «Transat Jacques Vabre», Solidaires en peloton ARSEP, skippered by Thibaut Vauchel-Camus and co-skippered by Victorien Erussard, becomes the 2015 Class40's champion. The regularity of the blue boat (a Mach 40 built in 2014) is indisputable this year and confirms her superb second place in the "Route du Rhum-destination Guadeloupe" in 2014.
Yannick Bestaven and Pierre Brasseur, winners of the «Transat Jacques Vabre» and «Les Sables-Horta-Les Sables» and second of the «Normandy Channel Race» on their Tizh built in 2014, Le Conservateur, take the second place of the championship. Even if they couldn't participate in all the races, they had a strong impact during this season.
To note as well Louis Duc' superb performance on his Class40 Carac Advanced Energies: he takes the third place of this ranking with his Akilaria MK2 from 2008! By finishing fifth in the «NCR », fourth of « Les Sables-Horta-Les Sables» (and third of the second leg) and third of « Record SNSM » and "Transat Jacques Vabre", he proves that old generation boats are still competitive.
« Rendez-vous » in 2016
2016 is gonna be a busy race season for the Class40s!
The championship will focus on a big triangle in the Atlantic ocean: The Transat (Plymouth- New York, solo-handed - departure May the 2nd), The Atlantic Cup (Charleston- New-York- Portland, double-handed - departure May the 28th), the Transat Québec Saint-Malo (fully crewed - departure July the 10th) with about 25 boats participating and, at least, the Normandy Channel Race which, by starting on September the 11th will be the last race of the season, and will determine the champion!
As the fleet is growing accross the Atlantic, four promotional races will be proposed (RORC Caribbean 600, Newport to Bermuda, Ida Lewis Race and Vineyard Race).
At least, for those staying in Europe, the calendar is organized around the Grand Prix Guyader, the Armen race, the Myth of Malham, the Record SNSM, the Round the Irland race and the Round the Island race to finish with Cowes-Dinard.
Different possibilities for a worldwide and eclectic fleet!
A flourishing second-hand market!
To prove that Class40 is in excellent health, the second-hand market is flourishing all over the world: 26 boats were sold in 2015! Moreover, 4 new boats have been lauched (2 Mach 40.3, 1 Pogo S3, 1 OCD 40) and 2 are under construction.
Now, 2 Class40 are in Brazil, one in Montenegro, one in South Africa, one in China, two in Canada, two in Slovenia, two in Japan, four in the Netherlands, fifteen in Great Britain, two in Australia, one in New Zeeland, ten in Italy, forty five in France, fifteen in USA…
2015 Championship ranking:
Solidaires en Peloton ARSEP (Thibaut Vauchel-Camus / Victorien Erussard) – 49 points
Le Conservateur (Yannick Bestaven / Pierre Brasseur) – 59 points
Carac Advanced Energies (Louis Duc) – 66 points
TeamWork 40 (Bertrand Delesne) – 84 points
Bretagne Crédit Mutuel (Nicolas Troussel) – 113 points
Groupe Setin (Manuel Cousin / Gérald Quéouron) – 113 points
Zetra (Eduardo Penido / Renato Araujo) – 114 points
V and B (Maxime Sorel / Sam Manuard) – 129 points
Concise 2 (Phillippa Hutton-Squire) - 139 points
CRENO Moustache Solidaire (Thibault Hector / Morgan Launay) – 145 points
Club 103 (Alan Roura) – 146 points
Serenis Consulting (Jean Galfione) – 152 points
SNBSM Espoir Compétition (Valentin Lemarchand / Arthur Hubert) – 153 points
Colombre XL (Massimo Juris / Pietro Luciani) - 156 points
L'Express (Pierre-Yves Lautrou) – 162 points
*the skipper and co-skipper are mentioned if they raced the whole season together.