The European Trophy was created in 2017 with the aim of rewarding boats for competing in Class40 events excluding transatlantic races. This first edition was comprehensively dominated by Phil Sharp's British-European team*.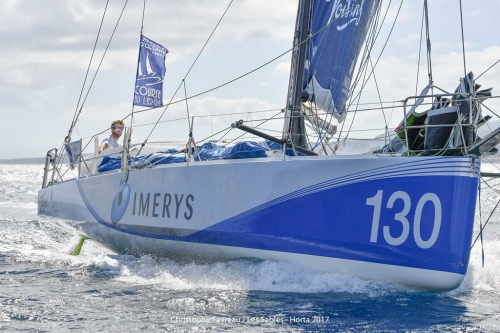 © Christophe Favreau / Les Sables-Horta
With 5 races to count for the Trophy this year, the Mach40 #130 won the first two (Grand Prix Guyader and Normandy Channel Race), did not compete in the Armen Race, and finished second in two other races (second on both legs of the Les Sables-Horta Race and the Rolex Fastnet Race).
Having competed in numerous events this season and delivered consistent performances with podium finishes, Phil Sharp amply deserves this victory, which he has won hands down with more than 100 points of margin over the runners-up.
Franco-British pair Halvard Mabire and Miranda Merron (Campagne de France) take second place in the ranking for this trophy. Jean Galfione (Serenis Consulting) completes the podium.
Also of note is the fine performance by the Finnish team on Fuji (a 2007 Owen Clarke design), finishing 6th and first Vintage boat overall!
This trophy truly underscores the international aspect of Class40 – won by a British sailor, German sailor Burkhard Keese in 4th place, the Italian team on Colombre XL in 6th, Oman Sail in 7th and Japanese sailor Horoshi Kitada in 8th place!
Phil Sharp, winner of the 2017 European Trophy
"It is really pleasing for the whole team, including our partners, to be rewarded with the European Coastal Trophy. It demonstrates that we have not only achieved some great race results but have also shown real consistency as a result of the dedication and enthusiasm everyone has shown.
It is a great boost prior to this year's grand slam, the Transat Jacques Vabre, but there is no underestimating the strong competition we have for this marathon event, and the amount of preparation we still have to do in order to maximise our performance and reliability in our quest for a top result."
Halvard Mabire, Class40 president
"The European Trophy highlights the vitality and diversity on offer within the Class40 race programme.
While primarily designed for transoceanic racing, Class40s also make for appealing boats for any offshore racing, and are therefore able to attract a wide range of skippers and teams who may not be able to include transatlantic racing in their programme due to other commitments, budget or simply out of choice.
Over the years, we have noted an increase in the number of Class40s competing in relatively short events dedicated exclusively to Class40s in European waters, (NCR, GP Guyader, Les Sables Horta...), as well as in offshore multi-class events, such as RORC races. With the ever-increasing level of competition in Class40, it was time for a trophy for the season's non-transatlantic races, to reward both performance in and attendance at these European events.
Congratulations to the team on Imerys for their victory in this first edition of the Trophy!"
European Trophy final results
https://www.class40.com/modules/kameleon/upload/europeancoastaltrophy2017.pdf
Further information
https://www.class40.com/modules/kameleon/upload/reglementtropheeclass402017europe.pdf
*Grand Prix Guyader: Phil Sharp (GBR), Pablo Santurde del Arco (ESP), Robin Marais, Arthur Le Vaillant, Corentin Douguet (FRA)
Normandy Channel Race: Phil Sharp (GBR), Pablo Santurde del Arco (ESP)
Les Sables-Horta Race: Phil Sharp (GBR), Corentin Douguet, Adrien Hardy (FRA)
Rolex Fastnet Race: Phil Sharp (GBR), Pablo Santurde del Arco (ESP), Pietro Luciani (ITA), Robin Marais (FRA)