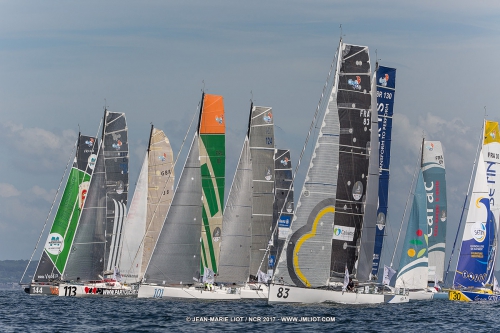 © Jean-Marie Liot / NCR 2017
Decidedly, 2018 will be the year of superlatives for Class40:a dynamic pre-season with the RORC Caribbean 600 and 1000 milles des Sables, the largest fleets of Class40, making it more difficult to win ... but this year the class has reached its climax in terms of diversity.
Remember
6 races championship Program

Massive investments

Other ness and Diversity
The 2018 Championships
There will be something for everyone this season and the best sailor shine on all races that this year offers as it is a tricky format! The Grand Prix Guyader in Douarnenez will open the season in early May by offering great coastal courses sailing the boats fully crewed. Meanwhile, in late May, there will be a contest of two races in dual of the 1,000-mile Normandy Channel Race from Caen and the Atlantic Cup on the east coast of the United States. After a few weeks of rest, in late July the Drheam Cup destination Cotentin a Solo race will take place. Then back to the fully crewed racing in August 1800 nm with the Sevenstar Round Britain and Ireland race(RBI). Finally, the Route du Rhum Guadeloupe as the destination, solo transatlantic, will close this crazy and very busy season.
Class40 fleet
Class40 will be massively represented this year: 15 Class40 will participate in the Grand Prix Guyader, 31 will line up for the Normandy Channel Race and on the same weekend, 11 more boats will start in the Atlantic Cup. At 3 months from the start of the Drheam Cup already 26 boats have registered! For the RORC RBI also expected fifteen Class 40s, a first for this summer a difficult test for all. The eventual winner of the Route du Rhum Class 40 will he be proud of his achievement and proud as they will have had to face more than 50 competitors (57 boats are enrolled, including 7 on the waiting list) ...
A heterogeneous fleet
An incredible mix is found this year in Class 40: more women will be skippering, 12 foreigners are entered in the Route du Rhum (2 Italians, 1 German, four British, one Belgian, three Americans and one Japanese). After more than 10 years of existence, the class has also preserved its DNA because fleet presents the different races this season with the combination of an almost equal combination of professionals and amateurs. As for Vintage, we can also be happy because there will be ten boats on the start line in Saint-Malo, which promises a good battle! Note the return on the Class 40 circuit after many years of absence! It will be a beautiful sight to see the line up alongside the latest 4 that where launched in 2018.
See you Friday, May 4 in Douarnenez to launch this summer!