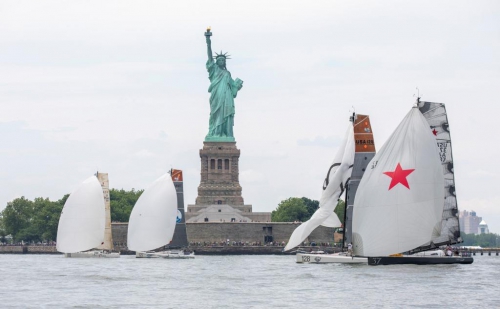 © Billy Black / Atlantic Cup
The first edition of the Class 40's American Trophy, rewarding those teams that participate in the North American races on the Class calendar, has been won in convincing fashion by a European team* organized by the French skipper Catherine Pourre on her Manuard designed Mach40.3 Eärendil. In taking the victory, she beat two American teams including Dragon, an Owen Clarke design skippered by Michael Hennessy and the winner of the 2018 Miami to Havana race, and the Farr designed Privateer, skippered by its new owner Jonathan Green. The 16 teams participating in the North American circuit of races included 3 Vintage boats and showcased the international nature of the Class40: 7 American boats, 4 French, 1 English, 1 German, 1 Angolan, 1 South African and 1 Swedish.
Eärendil was the Class40 winner of the RORC Caribbean 600, setting the record in a 2018 edition where the eight participating Class40s saw particularly high winds and challenging reaching conditions. BHB, the Verdier designed and St. Malo built Tizh40 skipperd by Louis Burton finished second, and Iskareen, the German flagged PogoS3 skippered by Arnt Bruhns completed the podium.
Catherine Pourre and Pietro Luciani also dominated the two offshore legs of the Atlantic Cup (Charleston - New York and New York – Portland Maine), thereby securing the overall victory for this iconic Class40 competition. This year's edition saw eleven Class40s spend 15 days racing up the eastern seaboard of the USA, where 500 miles of the Gulf Stream with its 4 to 6 knots of current and counter currents help make this race a notoriously difficult tactical challenge and extraordinary experience.
The Class40 American Trophy
The American Trophy was established in 2017 with a corresponding European Trophy, and it found its legs this year with a growing number of American boats participating alongside Europeans who ended up on this side of the Atlantic following the winter transatlantic races. Well organized events, favorable offshore courses well suited for Class40s and unfailing hospitality made for an intense level of competition in both the Caribbean and USA.
The events in the American Trophy circuit consist of offshore races ranging from 300 to 1000 miles such as the Miami to Havana Race, the RORC Caribbean 600, the Atlantic Cup and next year's Pineapple Cup from Miami to Jamaica as well as the Bermuda 1-2 with its solo leg from Newport to Bermuda and double handed return. The circuit also includes two events with an inshore format, the Voiles de St Barth and Grenada Sailing Week.
For the Europeans, there are excellent opportunities for the transatlantic return to Europe, with the Bermuda – Hamburg race running this year, the New York Yacht Club organized 2019 Transatlantic Race from Newport to Cowes starting on June 26 in 2019, and then the Quebec Saint Malo race in july 2020.
Michael Hennessy, Vice-President of the Class40
« The 2018 race calendar here in North America has really show cased the strengths of the Class40. New skippers have joined the Class with boats purchased in the robust second hand market, and Vintage boats are competing effectively against the newest designs. Most notably is the international nature of the Class where we have seen boats flagged from seven different countries racing with teams representing 12 different nationalities racing at the very highest level of the sport. Catherine earned her victory against a top quality group of competitors, and I tip my chapeau to her. »
Catherine Pourre, winner of the 2018 Trophy
« I am thrilled with the American 2018 season that followed our 2017 participation in the Transat Jacques Vabre, in as much as it allowed me to compete at a high and consistent level with the international team of Pietro, Pablo, Puro and Benoit. The racing here includes some beautiful challenges (the RORC Caribbean 600 and the Atlantic Cup) and those races make the competition a well deserved pleasure. Coming from Europe, one can be fooled into having an idylic vision of the racing conditions in North American but conditions for the RORC Caribbean 600 were very challenging this year, and then the Atlantic Cup leg from New York to Portland saw average winds of 25 to 30 knots and a very difficult sea state. The field-of-play is also larger, with a corresponding navigation challenge. We also had the chance to compete against an excellent group of sailors whom we rarely get to meet in Europe and it was a real pleasure to see the Americans and Europeans racing alongside each other on these shores. I hope that the Class40 in America sees the same growth and strength as we see in Europe, since the race courses are fantastic and the ambiance is magical. I intend to return next year and urge the European skippers who are racing in the Route du Rhum to consider including these American races to their schedule. Our Class motto of « Friendly Class, Fierce Racing » can be found in every way on this side of Atlantic. »
* Eärendil's RORC CARIBBEAN 600 TEAM: Catherine Pourre, Benoit Hochart (FRA), Pablo Santurde del Arco, Carlos Ruygomez (ESP), Pietro Luciani (ITA)
* Eärendil's ATLANTIC CUP TEAM: 1. Offshore Legs : Catherine Pourre (FRA), Pietro Luciani (ITA) 2. In-port series Portland: Catherine Pourre (FRA), Pietro Luciani (ITA), Allison Gray, Sam Fitzgerald, Chris O'Toole (USA), Andres Guerra (ESP)
The 2018 American Trophy Rankings
1. Catherine Pourre (Eärendil #145)
2. Michael Hennessy (Dragon #54)
3. Jonathan Green (Privateer #102)
https://www.class40.com/modules/kameleon/upload/americantrophy.pdf