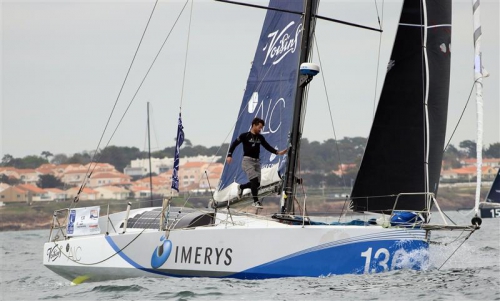 www.philsharpracing.com
After claiming victory in last year's European Trophy Award, Phil's performance objective for 2018 was simple – to defend the title and he successfully did, finishing on the podium of every race he took part!
Phil wins for the second consecutive year despite the growth of the Class40 with four new boats launched just this year, added to the already fiercely competitive fleet. Luke Berry (Lamotte – Module Création), for his first season on his new Mach 40.3, is second and Louis Duc (Carac) completes le podium.
"It's really fantastic to win the European Trophy Award this year especially as there is twice the competition than in 2017. Several new boats have been launched this season which have quite simply been quick out of the starting blocks, and have definitely kept me racing on the edge." Commented Phil Sharp, skipper of Imerys Clean Energy.
The season kicked-off in April with a solo warm-up the 1000 Milles des Sables, a return race from Les Sables d'Olonne to Gijón, won by Aymeric Chappellier (Aïna Enfance et Avenir). The first opportunity for the skippers to test both man and boat single-handed and in race mode since the Transat Bakerly in 2016. The Grand Prix Guyader and the Armen race, both fully crewed, took place in May, followed by the Normandy Channel race, the annual Class40 event, won by the Imerys Clean Energy duo. 5 Class40s lined up for the Volvo Round Ireland Race (victory of Nicolas Troussel – Corum) before joining the important fleet of the Drheam Cup destination Cotentin in which Yoann Richomme (Veedol) took the first place. Joined by Pablo Santurde, Julien Pulvé and Sam Matson, Phil Sharp went on to win the last race of the EUropean Trophy, the Sevenstar Round Britain and Ireland race, organized mid-August, breaking the previous record by 15 hours.
"The European races included two single-handed events making it a tough season so far, but so important for Route du Rhum training and preparation. I am really pleased that we have been able to be consistent racing in different configurations from solo, duo to fully crewed, which means that firstly we have a strong team and secondly that our platform, Imerys Clean Energy is versatile and competitive despite her age.
To note also Cédric de Kervenoael'sperformance, 19th of the Trophy ad 1st Vintage.
Rendez-vous on November 4th for the Route du Rhum with 53 Class40s on the starting line. The result of this transat will determine the 2018 Class40 champion.

Ranking of the European Trophy
1. Phil Sharp (Imerys Clean Energy) – 309 points
2. Luke Berry (Lamotte – Module Création) – 279 points
3. Louis Duc (Carac) – 277 points
4. Loïc Féquet (Tibco) – 251 points
5. Aymeric Chappellier (Aïna Enfance et Avenir) – 243 points.
The whole ranking : https://www.class40.com/modules/kameleon/upload/europeantrophy2018.pdf