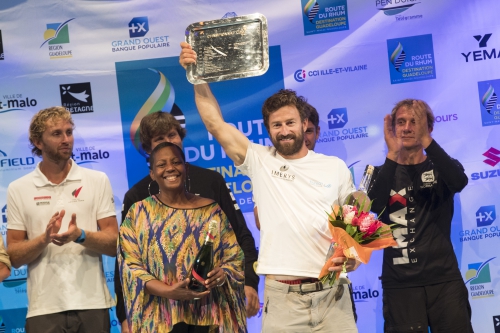 © Alexis Courcoux #RDR2018
British sailor and native of Jersey, Phil Sharp (37), finished the Route du Rhum -Destination Guadeloupe with a remarkable 3rd place, earning him the outright Class 40 Champion title for the second consecutive year. Securing a podium spot in each of the four championship races he contested, Phil utterly dominated what is an increasingly selective championship thanks to the arrival this year of new boats and new racers. The talent of the skipper of Imerys Clean Energy is widely recognised, together with his temperament as a tenacious and resolute fighter, which has earned him the amicable nickname of "Bulldog".
The final of the Route du Rhum - Destination Guadeloupe for the Class40 was a true reflection of the incredibly fiercely contested season of 2018. Indeed, no fewer than fifteen or so solo sailors, aboard latest generation or fully-honed 40-foot monohulls were in contention for victory on 4 November 2018. The physiognomy of the race matched what the Class40 is able to offer today, namely an action-packed battle with daggers drawn where the big prize could end up in anyone's hands. Yoann Richomme (Veedol AIC) triumphed thanks to his sound sailing knowledge chiselled out by years on the Figaro circuit. In his wake, the race among the main contenders for the outright title testified to a rare degree of intensity and it came as no surprise to see that the top 10 in Pointe à Pitre included the championship's star players, such as Aymeric Chappellier, Luke Berry, Jack Trigger… and one Phil Sharp!
The Briton, aboard his Mach 40 No.130 Imerys Clean Energy built in 2013, did more than simply stand up to the very latest generation boats. In fact, thanks to his extraordinary tenacity, he was able to keep pace with boats renowned for being more powerful. Securing a fine third place singlehanded in the 1000 Milles des Sables back in the spring, an event that didn't count towards the championship, Phil gave onlookers a taste of his metal and his ambitions for the year ahead, culminating with the star event, the Route du Rhum-Destination Guadeloupe. He asserted himself the following month, dominating his main rivals, Louis Duc (Carac) and Aymeric Chappellier (Aïna Enfance et Avenir) during a particularly intense and hotly-disputed Normandy Channel Race, which saw him teamed up with Julien Pulvé. Second in the Drheam Cup-Destination Cotentin, it was during the Sevenstar Round Britain and Ireland race that he hammered the point home, posting his ambitions for the outright title with real authority. Joined by his ever faithful teammates, Pablo Santurde, Julien Pulvé and Sam Matson, Phil Sharp bagged his second victory of the year here, pulverising the previous event record by some 15 hours.
And yet, the Route du Rhum-Destination Guadeloupe remained his primary objective for the season. Winner in 2006, Phil knew that he'd be up against very different opposition. In the shadow of Yoann Richomme's superiority and his formidable Lift 40, Phil Sharp became embroiled in a fight in which he alone knows the secret to his great energy, desire and perseverance. Like a number of his rivals, he overcame his share of damage to pull off a fabulous podium place, less than two hours behind Aymeric Chappellier.
Following his success in 2017, this victory in the 2018 championship comes as a great source of satisfaction for the skipper of Imerys Clean Energy: "Winning the Championship for a second consecutive year has shown that above all we have been consistent. We have finished every event over the last two years on the podium, with a previous generation boat. Achieving this success is down to a lot of hard work on and off the water, both technically and commercially.
In addition to our race results, our most notable success is that we have developed practical fossil-free energy solutions that we hope can help set an example for the marine industry to follow in order to reduce air pollution on our oceans.
We would not have been able to achieve these performance and environmental results without the invaluable support of our dedicated partners. I hope they recognise the crucial role they have played, and can share in our successes by being proud of what they have helped the Energy Challenge achieve to date. ».
It is Aymeric Chappelier (Aïna-Enfance et Avenir) who logically takes the second step of the podium, followed by the newcomer to the Class40, Luke Berry and his Mach40 No.153 Lamotte-Module Création.
2018 ranking:
1- Phil Sharp – Imerys Clean Energy
2- Aymeric Chappellier – Aïna Enfance et Avenir
3- Luke Berry- Lamotte-Module Création
4- Jack Trigger – Concise 8
5- Loic Féquet – Tibco
https://www.class40.com/modules/kameleon/upload/championnatclass402018postrdr.pdf