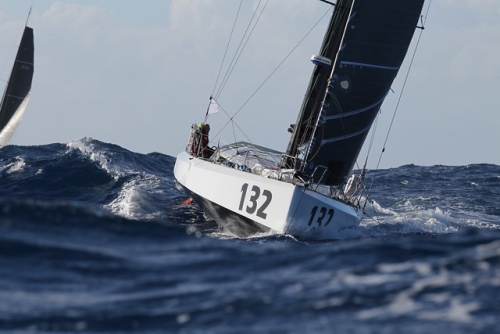 © Tim Wright
Two World Tours! The announcements are attractive, and Class 40 is delighted as the Class has been campaigning this for several years to convince the organizers of the opportunity of such a race. It enthusiastically supports both of these projects. The success of the class, the maritime qualities of the boats and the accessibility of a round-the-world race for many sailors from all over the world: This means that two quality events are positioned. These projects, both on schedule and track, open for entries that correspond well to the pro-am mix of our members. It will therefore be an option for a "North Route" in 8 stages in 2021 and another option for a 'South Route' in 4 stages (and a prologue race) in 2023.
Two different ambitions
The Globe 40 in 2021, organized by Sirius Events, carries values of adventure and travel, favouring a very "north" route connecting eight new stage cities like Mauritius, Papeete in French Polynesia via Cape Horn to Ushuaia. Performance stays at the heart of this engagement race.
The Race Around, the first edition of which is scheduled for 2023, organized by Manuka SEM and 5 Ocean Sports Marketing, takes over the course through the Southern Ocean around the world in 4 stages (Europe, Cape Town, New Zealand and Brazil) leading the skippers of the Class 40 to compete in the furious fifties to pass the mythical Cape Horn.The organisers propose to equip the winners with price prizes.
A world tour, a project in its own right
In parallel to these world tours, the Class40, now with almost 160 boats and an ever-increasing number of members, will continue to animate its Championship racing calendar as well as European and American Trophies over the years considered, with the now classic Normandy Channel race, the Les Sables-Horta, the Rolex Fastnet race or the Transat Jacques Vabre. Both of these projects are aimed at public looking for an exceptional event, the adventure of a lifetime, both personally and athletically, on a fast and efficient medium while maintaining the budget of such a commitment at a contained level.
For more info