News
After a 24 hours race and 2 costals races in Saint-Malo Bay, LAMOTTE-MODULE CRÉATION won at home the overall ranking before IMAGINE (Jörg RIECHERS / Cédric CHATEAU) and CROSSCALL CHAMONIX MONT-BLANC (Louis Duc / Aurélien DUCROZ).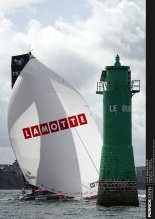 @ Pierrick Contin
For this first edition of the 40 Malouine SACIB, 13 Class40s lined and up among them 2 vintages.
After the first 180 nm course, raced in less than 24 hours, the boats competed on Sunday on 2 costals races, fully crewed.
Luke BERRY, from St-Malo, and his co-skipper Tanguy LE TURQUAIS, winner of 2 races over 3 climb on the top of the podium.
« The format of this 40 Malouine SACIB is super ! It's a mix of doublehanded training during an intense offshore race and shorter routes with numerous maneuvers. It was also very pleasant to have our partners on board for the 2 costals fullycrewed races on Sunday morning with very good weather conditions, sunny and windy. We won the first leg and it was not easy.The fight was intense.On the second leg, despite a start on the second place and another trap stuck on the keel, we managed to sail well to regain places » says Luke BERRY.
A first edition very positive ans enjoyed by everyone. The race partners already confirmed their support for the next edition.The SNBSM is under discussion wth the Class40 and the skippers to schedule a date in the 2020 race program.
The ranking :
https://www.class40.com/en/courses/222-la-40--malouine-sacib.htm