source: Transat Jacques Vabre Normandie Le Havre https://www.transatjacquesvabre.org/en/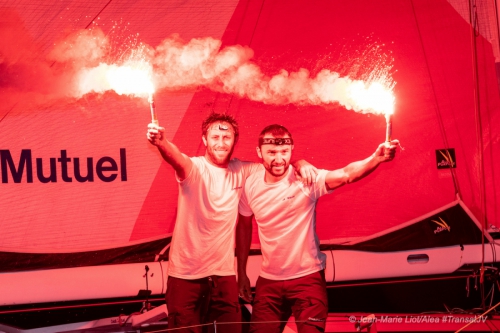 ©Jean-Marie Liot/Alea #TransatJV
Ian Lipinsky and Adrien Hardy, on their 40ft monohull, Crédit Mutuel, have won the Class40 of the 14th edition of the Transat Jacques Vabre Normandie Le Havre after crossing the finish line in the Bay of All Saints in Salvador de Bahia, Brazil on Thursday, November 14, 2019 at 04:36:23 (UTC), 17 days, 16 hours 21 minutes and 23 seconds after leaving Le Havre, Normandy, France on Sunday, October 27 at 12:15 (UTC).
Crédit Mutuel covered the theoretical course of 4,350 nautical miles at an average speed of 10.25 knots but actually sailed 4,714.35 nautical miles at an average speed of 11.11 knots.
Leaving Le Havre, Crédit Mutuel was on everybody's list of favourites. The big nose of the new Mini-inspired, David Raison-designed scow attracted a lot of attention on the pontoons of the Bassin Paul Vatine. They were a known unknown. "They've got two very good sailors and a new boat," said Sam Goodchild (Leyton), destined to be their chief pursuer."They've only been in the water for two months. We've been sailing with them and their times are a bit quicker; they haven't blown us out of the water yet, but they're not going to get worse."
(Ian Lipinski explains his project here)
Prophetic words. Crédit Mutuel only got better as the race wore on. They sailed their own race and had the skills and boat to back it up. Reaching out of the Channel, their northerly strategy was immediately apparent and after the first night they were one of only two boats to stay north of the Ushant Traffic Separation Scheme.
On the third night, they tacked south in seventh, 35 miles behind. Aïna Enfance & Avenir, the narrowest of runners-up in 2017 and most people's marginal favourite at the start, leading by three miles from Leyton.
By the fifth day, the fleet compressed in tricky upwind conditions with boats stuck in single figure boats speeds. "Our shift north? We still don't know if it will be beneficial, but we think it's not that bad," Lipinski, 38, said. It wasn't and a few hours later and after five and a half days of racing, on the latitude of southern Portugal, Lipinski and Hardy, 35, took a lead they would never relinquish.
It was far from plain sailing. They still led by only 9 miles from their formidable and proven pursuers as they approached the Canary Islands.
But by the ninth day, they had clearly begun to enjoy themselves and were sounding ominously confident. The four lead boats got through the ridge of high pressure around Gibraltar unscathed and in the north-east trade winds extended away from the rest of the fleet under spinnaker.
"We haven't touched the helm since Ushant," Lipinski said in what became a repeated refrain. "We're as happy looking at our track on Adrena (routing software), as a skier looking back at his track after descending a slope."
In the north-east trade winds they powered away remorsely 20 miles to the west and on the 11thday after planing past the Cape Verde islands they repeatedly broke the 24-hour speed record. They peaked at 415.86 miles at average speed of 17.3 knots over 24 hours between 03:30 on 4.11.19 and 03:30 on 5.11.19. That beat the old record of 377.7 miles at average speed of 15.7 knots by 2017 winners V and B, set in the last edition of the Transat Jacques Vabre Normandie Le Havre. Despite the much less favourable conditions, they were only six hours outside V and B's 2017 course record of 17 days 10 hours 44 minutes and 15 seconds.
"The boat is going on its own, we found the right sails, we're monitoring it, but its going alone," Lipinski said this morning. "We're under medium spinnaker with 1 reef and 2 reefs in the mainsail. We're getting around on all fours, the boat slams lot, we're trying not to hurt ourselves. It's a bit wet on deck, but I think it's nothing compared to those behind us."
Crédit Mutuel was 81 miles ahead of Leyton and 89 miles ahead of Aïna Enfance & Avenir. Both were regularly touching the old 24-hour record in their Manuard mach 3 boats but are losing miles at every ranking.
After that, it appeared that they just had to avoid being Charaled in the Doldrums to secure victory and they managed that with aplomb, never offering Leyton a genuine sniff.
There was always pressure, but Crédit Mutuel was always equal to it and they appeared to be enjoying their coast down north-east Brazil. "We think we're going well, but we are still watching the rankings every hour," Lipinski said
But if they were feeling the pressure on Crédit Mutuel, that was slightly undermined by their menu. "Yesterday, Adrien made bread and today he's making a crumble," Lipinski added.
They will have enjoyed that immensely on the final straight.