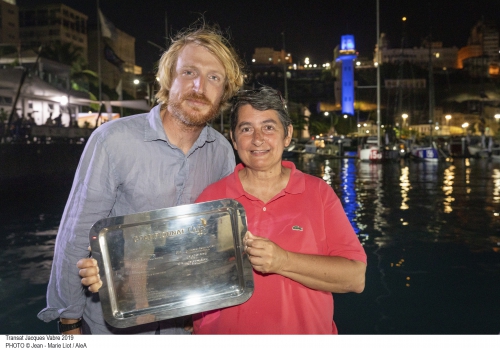 © Jean-Marie Liot / AleA
The French-Italian pair Catherine Pourre and Pietro Luciani follows British sailor Phil Sharp as Class40 2019 champions. At the helm of their Mach3 n°145 Eärendil designed by Sam Manuard, Catherine and Pietro have shown all along the 6 major races on this year's program great consistency at the top of the charts to take the win. The Transat Jacques Vabre Normandie Le Havre, particularly competitive this year, is about the only race where the duo did not perform at the top. Very well positioned on a western course, they had to deal with technical issues, only to finish strong within the top ten of the race after a remarkable remontada. Claiming no less than three victories, Frenchman Aymeric Chappellier who did not compete in the Rolex Fastnet race, takes second place. Newcomer in the Class, Charles-Louis Mourruau having retired from the Transat Jacques Vabre completes the podium.
2019 proved quite an exciting and richly diversed season for the Class40 ; Two transatlantic races, the Défi Atlantique in april and the Transat Jacques Vabre in the fall, and four major classic races brought great performance and sports excitement to the fans. 45 boats enlisted in one or more of the 6 races that made up the 2019 championship. A strong testimony to the ever growing Class dynamics. New boats keep coming out of shipyards around the world, and older Class40 boats still remain quite competitive, as Charles Mourruau's brilliant third place on board a Pogo 40 S2 Colombre XL n°101 proves the point. Earendil has displayed skill and performance throughout all the races on the agenda, starting with an early win in the Caribbean 600 in february. Catherine Pourre and Pietro Luciani then stood their ground facing an ever renewed and fierce opposition, with podium results in the Défi Atlantique, Normandy Channel Race, Les Sables - Horta and the Rolex Fastnet Race. Winning the title reflects a steady and strong commitment throughout the season by this pair of international sailors who gives an accurate representation of what the Class40 is about, diversity and internationalisation.
Catherine Pourre - Eärendil
« I am immensely proud of this result ; 2019 has been a grand slam year for Eärendil. After winning this year the America and Europe Class40 Trophies, the RORC Class40 Trophy, we secure the Class40 Championship. This exceptional achievement comes as a result of total commitment in every aspect of the project we initiated back in 2018. Our expectations were high. We have worked hard to improve the boats technical capabilities. She proved in the end robust and very fast. We did some great sailing with Pietro who is a talented sailor. We've met our goals. I however feel a bit disappointed by our Transat Jacques Vabre. Against all odds, we have tried to put up a show with a strong finish. As a 9 years member of the Class40, I remain an absolute supporter of this format that offers great sailing and racing opportunities at a reasonable price, within a lively and dynamic class. Our history with N°145 is coming to an end, almost, at least till the Québec Saint Malo 2020. To move forward with a new project would definitely please me. »
Pietro Luciani - Eärendil
« I am thrilled with this championship victory, which is the result of a fine team work and a solid commitment alongside Catherine. The Transat Jacques Vabre and our 10th place, leaves us with some regrets. But we have throughout the season shown dedication and steadiness to gain that reward. This championship is demanding. It is a very thorough competition, with a mix of transatlantic races, offshore races, in pairs or crewed. The level keeps on growing year after year. I particularly appreciate the Pro-Am spirit that still exists in the Class while performances are on the rise. Proof of this is this astounding 24 hours record set by Adrien Hardy and Ian Lipinsky with over 415 miles covered. Offshore sailing attracts more and more international sailors, and the Class40 is an excellent place to start. British sailor Phil Sharp won twice this championship. I admire him very much and it is an honor to come after him. I shall sail in Class40 again next year. My personal dream would be to compete in the Route du Rhum. »
Aymeric Chappellier - Aïna Enfance et Avenir
« It has been a great season for us, with five podiums in all five races, including three wins. I congratulate Catherine and Pietro. This second place comes as a victory of sorts, in this ever growing Class. The level is constantly on the rise and yet, fun and pleasure are still there. New boats are coming, all within the Class regulations, with performances similar to the Imoca of not so long ago. This championship offers great competitions, and the boats are still affordable. I know that the Class leaders put a lot of thinking into future potential developments and one thinks of foils quite naturally. But keeping the costs low still remain a Class trademark, which is a good thing. My partnership with Aïna is over. I'm taking time off to think about future plans. But I shall definitely sail Class40 again… »
The Class40 Championship is a point race competition rewarding the teams that follow the program. This program includes transatlantic races and shorter offshore races. The Board decides every year on the program that can be checked here : www. class40.com
2019 standing
1- Eärendil - Catherine Pourre - Pietro Luciani : 1003 points
2- Aïna Enfance et Avenir : Aymeric Chappellier : 953 points
3- Colombre XL : Charles Louis Mourruau - Estelle Greck : 615 points
https://www.class40.com/modules/kameleon/upload/1championnat2019final.pdf
6 races accounted for the 2019 championship
RORC CARIBEAN 600 (10 entries)
DÉFI ATLANTIQUE (12 entries)
NORMANDY CHANNEL RACE (13 entries)
LES SABLES - HORTA (13 entries)
ROLEX FASTNET RACE (19 entries)
TRANSAT JACQUES VABRE NORMANDIE LE HAVRE (27 entries)