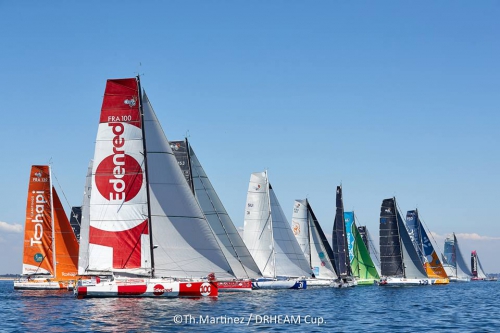 © Th. Martinez / DRHEAM Cup
The least we can say is that the season has been severely disrupted this year! Even if the period has been efficiently used by the class to deal with all the short term and future issues, and by the skippers who were able to fine-tune their project ashore, it is about time that we saw some action on the water. Especially as more than 15 boats have changed hands and 5 new boats have been built or confirmed in 2020.
Currently Ian Lipinski is trying to beat the single-handed record round Britain in a 40-foot monohull aboard Crédit Mutuel, this record is held by Phil Sharp since 2018. Over on the Atlantic coast, the Class40s are meeting up in Cherbourg for a long-awaited return to racing and it is the Drheam Cup which will restart the season on 18th July thanks to the determination of the organisers. Get ready for a 736 nautical mile loop between the Cotentin peninsula and La Trinité sur Mer via the Fastnet!
The European Trophy, which has been greatly reduced this year, could be confirmed if there is enough participation for at least 2 out of the 3 races on the calendar. SSE Renewables Round Ireland, starting on August 22nd in Wicklow. The Normandy Channel Race, a great classic on the Class40 circuit, has already more than twenty entries and has therefore been confirmed without hesitation, the race will start on September 13th in Caen. Heading into autumn, the exceptionally beautiful Rolex Middle Sea Race will take place on 17th October in the Mediterranean.
To end the season in style, some are planning on participating in the Spi Ouest France held in La Trinité sur Mer this September. And finally, several projects have announced plans to carry out parallel record campaigns on Round Britain and Ireland, the SNSM Record, the Defi Pure Ocean or Les Griffes du Lion.
European Trophy:
- Round Ireland Race (22nd August)
- Normandy Channel Race (13th September)
- Rolex Middle Sea Race (17th October)