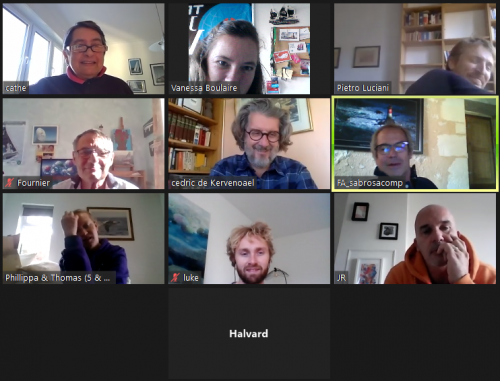 The Class40 Annual General Meeting was held last Saturday. At the end of the meeting, the members elected the new members of the Executive Committee.
Renewal of the members of the Executive Committee
They were 6 candidates for 3 vacancies, showing the dynamism of the class and the willingness of its members to invest in it.
At the end of the ballot, Catherine Pourre and Cédric de Kervenoael, who were completing their 3-year term, were re-elected, proof, if proof were needed, of the recognition of the work carried out by the Committee.
Luke Berry was overwhelmingly elected with more than 70% of the votes and joined the Board. His career (2nd in the Mini Transat 2015, winner of the 2019 Rolex Fastnet race, 6th in the 2018 Route du Rhum...) and his dual nationality perfectly illustrate what the Class40 is all about: an international class for true ocean racing enthusiasts. Trained as a naval architect (Southampton University) and perfectly bilingual, he completes an already very international Executive Committee (France, Italy, Germany, America and South Africa) with complementary skills.
2020 Board of Directors
Halvard Mabire continues his term as President for another year, as does Catherine Pourre, who is re-elected Treasurer. As Vice-President, Pietro Luciani is chosen by the directors. Cédric de Kervenoael becomes Secretary General.
The departure of Jacques Fournier
A page was turned on that day. Jacques Fournier, one of the founders of Class40 and president of the Association for 4 years, at the end of his mandate, had decided not to run again. Adept in the notions of adventure and discovery, a fervent defender of the Friendly class and its PRO-AM mix, he decided to leave his place to the new generation after 15 years of unfailing investment, confident in the maturity of the class. A big thank you to him for all he has given and brought to the class!