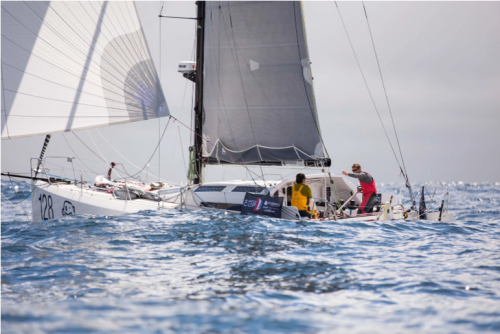 © Billy Black | Atlantic Cup
The organisers of The Race Around, Class40's official round-the-world race, are today pleased to announce following significant interest, the establishment of a solo category running alongside the already announced double-handed fleet.
In a move that will spark memories of the highly successful 'BOC Challenge' and 'Around Alone' era, the organisers have also taken the opportunity to increase the number of entries from 25 to 35, inclusive of five wild cards.
Sam Holliday, Managing Director, The Race Around said, "Since announcing The Race Around in late 2019 we've been blown away by the level of interest around the race and have taken the time to speak with a number of those looking to compete. It has become clear that the Class40 continues to boom and we have to take into account a growing trend of those wanting to compete in a global event that goes beyond the traditional reach of Class40. The Race Around therefore perfectly fills the void for those that have finished the Mini Transat and the Route du Rhum and perhaps have the following Vendée Globe cycle in their sights."
The inclusion of the solo category has created a race with two trophies. The solo class will race for The Race Around Trophy with the double-handed fleet racing for The Race Around Cup.
Hugh Piggin, Co-founder, The Race Around said, "Upon making this decision our main thought has always been to provide a race that aligns with the ethos of an international Class, raced by both amateurs and professionals and The Race Around remains exactly that. The ability to choose the category that best suits the respective competitors will allow a varied and interesting mix between professionals seeking glory and seasoned amateurs looking for an adventure of a lifetime whilst racing alongside and against some of the sports established names."
Further to the inclusion of a solo category, organisers are also delighted to have signed a long-term partnership agreement with Class40. This agreement will ensure The Race Around's continued success beyond the first edition which will start in 2023. The partnership agreement details how the two organisations will work together to ensure members are provided with the best racing opportunities whilst also ensuring a greater level of technological collaboration with regard to the safety, sustainability, event qualification and more.
Halvard Mabire, President, Class40 Association said, "We're delighted to have signed a long-term partnership agreement between our two organisations. It is clear that The Race Around is looking to establish itself as one of the great ocean races and we, as a Class, are proud to work alongside them in a true partnership. The inclusion of a solo class allows us to dream once again of the golden era of the 'BOC Challenge' and 'Around Alone', races in which the racing was tough and the adventure was real. Today's announcement allows further opportunity for competitors to stay within the class and for partners and sponsors to gain exposure on a global scale, whilst also providing seasoned amateurs the ability to complete a lifelong goal of circumnavigating the globe."
source: www.theracearound.com