News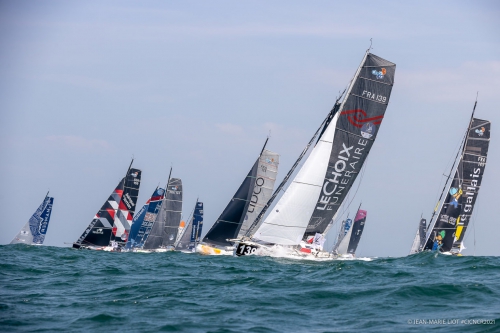 © Jean-Marie Liot / CIC NCR 2021
More ready than ever after long months without competition, the 23 duos were able to unleash the horses in a heavy sea at the start of this 12th CIC Normandy Channel Race. It was in a 20-25 knot north/north-easterly flow that the race committee punctually released the competing duos at 4 pm, thus launching the 2021 Class40 season. Strong conditions forced the race director to cancel the coastal course initially planned and to send the fleet directly to the first course mark of Saint-Marcouff after having rounded a clearing buoy located 2.5 nautical miles from the starting line anchored in the Bay of Seine in front of the mouth of the Orne. For this virile start, the headliners of this 2021 edition have made the powder talk from the start.
Axel Trehin and Frédéric Denis quickly won the race upwind on their brand new Class40 Project Rescue Ocean, before rounding the first mark and heading upwind to the next compulsory passage mark of the Saint Marcouf Islands, anchored some 36 miles from the start in the Bay of Veys. The duo of Ian Lipinski and Gwenolé Gahinet, aboard their Class40 Crédit Mutuel, held their ground with an impeccable start, allowing them to slip into second place in the score. The Franco-Spanish duo, Antoine Carpentier and Pablo Santurde del Arco on board Redman, followed.
An express transmanche
The Class40s quickly covered the 36 miles separating the clearing buoy in front of Ouistreham from the mark that must be rounded to the west of Saint-Marcouf and thus began the crossing of the English Channel and its heavy maritime traffic in the early evening. The reaching conditions combined with the talent of the skippers on board, will allow the most recent boats to demonstrate the power of these mounts to take a slight advantage, before tackling an episode certainly less pleasing for the sailors, the passage of the Solent at night.
The tracker
Suivre la course - Normandy Channel Race (normandy-race.com)
Source: Sirius Evenements