News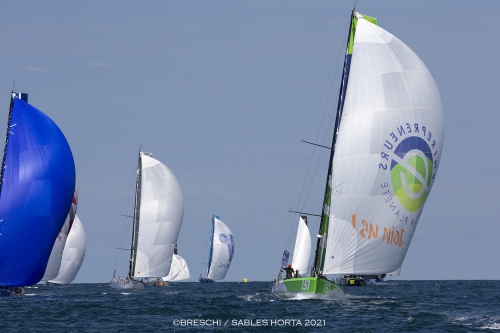 © Breschi / Les Sables Horta
See you tomorrow at 1pm in the bay of Les Sables d'Olonne for the start of the Sables Horta, 8th edition. 24 duos, 2540nm non-stop, only one course mark to go around in front of the port of Horta, a rather simple scenario. But the weather decided to get involved.
Ian Lipinski:
"This is not the time to stress yet, because we still have today and Sunday morning to find clearer tracks, says Ian Lipinski. Asking about the weather early on, asking about the problems, will allow us to understand a bit more quickly when we update the files. But it is possible that we will have to make a strong choice on Sunday (at 1:00 pm, start time) between the north and the south.
If we have listened to Ian Lipinski, we can sum up the situation as follows: it is not easy on the start line, and it becomes unreadable 24 hours later. The American weather models predict very little wind on the northern route, unlike the other reference model, the European model. A little less used by the sailors, but still taken into account, the German model announces wind at 25-30 knots in the first 24 hours.
The list of registrants : https://www.class40.com/fr/courses/238-les-sables---horta-.htm
The tracker : http://lessables-horta.geovoile.com/2021/tracker/