News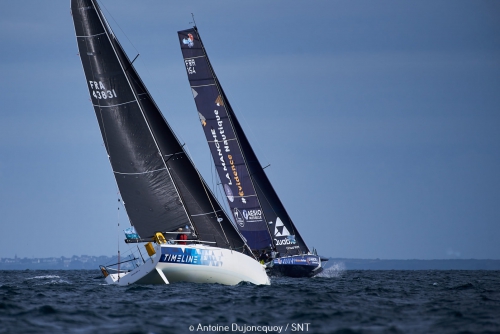 © Antoine Dujoncquoy / SNT
Due to complicated weather conditions, the start initially planned on Sunday, July 4th was advanced to Saturday, July 3rd, in La Trinité Bay.
Two Class40 were participating in this "tour of Brittany", the #154 skippered by Nicolas Jossier and the #155 skippered by Clara Fortin.
Nicolas Jossier's crew was the first to cross the line at 21h 53min 29s this Sunday after 1d 03h 48m 36s of racing. Note that he is also second in real time. #Surprise, Clara Fortin and Martin Louchart, crossed the line this Monday morning at 07h 25min 11s.
Nicolas jossier: "First Class40 and second all class behind the impressive Team Teasing Machine 54. The crew was at the top, never a break and always in a good mood despite the wet atmosphere. Surfing, averaging nearly 20 knots, constant sail changes, sailors are at the top! Thank you Thomas Hill, Arthur Richer and Karline Desvages who amazed me during the 27 hours of racing! Bravo."