News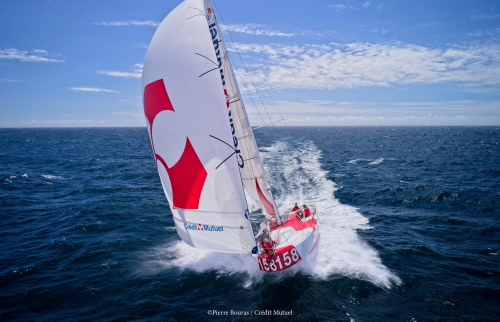 © Pierre Bouras / Crédit Mutuel
Ian Lipinski is definitely impressive on his Max 40 Crédit Mutuel: a victory in the Transat Jacques Vabre in 2019 with Adrien Hardy during which they broke the record for the distance covered in 24 hours on a Class40, previously held by the duo Maxime Sorel / Antoine Carpentier, a new reference time on the Round Britain and Ireland Record in 2020 and here is a new record for 2021, achieved during the Les Sables Horta race, with Ambrogio Beccaria!
Crédit Mutuel covered 428.82 nautical miles between Monday, July 5 (0h00) and Tuesday, July 6 (0h00) at an average speed of 17.9 knots.
This record was previously held by the same skipper - boat pairing; they had sailed 415.86 miles at an average speed of 17.3 knots between November 5 and 6, 2019.
We can't wait for the next transatlantic race where the Max 40, the Mach 40.4, the Lift v2, the Pogo S4, the Cape 40 scow or the Clak 40 will compete... the races have not finished being beautiful!