News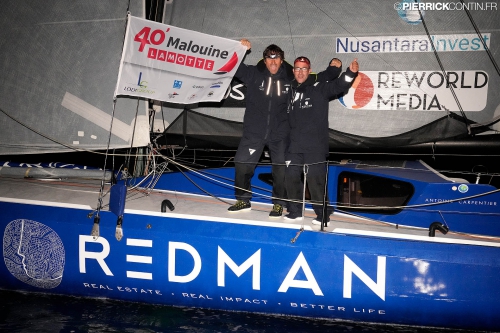 © Pierrick Contin
Setting out from Saint-Malo at 12:08 on Friday, the 22 duos will have taken much less than twenty-four hours to complete the 155-mile course, concocted by Franck-Yves ESCOFFIER.

First to cross the start line, Antoine CARPENTIER and Pablo SANTURDE DEL ARCO will have led the race from start to finish, despite the fact that, like some of the other participants, they were caught in a lobster pot.
Antoine CARPENTIER, skipper REDMAN: "We were 2 or 3 boats to cross the start line at the same time with SEAFRIGO - SOGESTRAN (Cédric CHATEAU and Jérémie MION) and LAMOTTE - MODULE CREATION (Luke BERRY and Ronan FLOCH) who also started well. We chose a different sail from them on the first leg, which made the difference because we had a slightly larger headsail than them. It paid off because we passed the first mark ahead. As time went on, we got ahead and the gap widened. There were some tactical moves on some of the tacks where we were pretty good. The boat is going well, we know it well, so as soon as there is a change in the wind, we know which sail to put on and how to trim it, and it goes quite quickly. Otherwise there's the matter of the traps! SERENIS CONSULTING (Jean GALFIONE and Alan PENNANEAC'H) was the first to take one, I think SEAFRIGO-SOGESTRAN followed, LAMOTTE-MODULE CREATION too. We know that between Chausey and Jersey we sail on shallow waters which are favourable to traps. There was a lot of current which made us walk like a crab. We had to be careful. In any case, it's the first time I've raced the 40'Malouine LAMOTTE, we had great weather, good conditions, a nice course with some pretty nice spots and the atmosphere is good. There's still tomorrow when we'll be racing as a crew and that's going to be nice too."
The winning crew of this course is ahead of Jean GALFIONE and Alan PENNANEAC'H on SERENIS CONSULTING by 15 minutes at the finish line. Luke BERRY and Ronan FLOCH (LAMOTTE - MODULE CREATION) complete the podium.

Mathieu CLAVEAU and Christophe FIALON won the Vintage category, finishing in 12th place.
source: SNBSM - 40 Malouine Lamotte