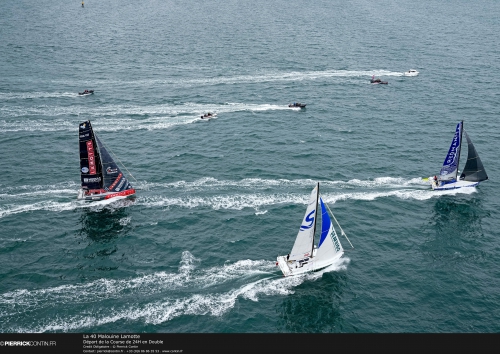 © Pierrick Contin
The Class40 European Trophy (unfortunately not awarded in 2020 due to a lack of races) has this year gone to Antoine Carpentier on his Mach 40.4 Redman! Having scored podium results in all his races this year except for the Rolex Fastnet Race, Antoine Carpentier has won his first European title on his Class40 Redman in a fleet that has become ever more competitive. The Swiss duo of Valentin Gautier and Simon Koster (Banque du Leman) take second place, and Luke Berry (Lamotte – Module Création) completes the podium.
"We are really happy to have won the European Trophy. It's a first for me! We scored podium results in all races apart from the Rolex Fastnet Race in which we finished in 4th place, but we pulled off podium finishes in the CIC Normandy Channel Race, Les Sables – Horta, and the 40 Malouine Lamotte too. Our consistent performance has been rewarded by winning the European Trophy. We are delighted. It's the boat's first season, so it bodes well for the future," said Antoine.
The season kicked off at the end of May with the fiercely contested double-handed CIC Normandy Channel Race, a 1000 nm loop of the English Channel and Celtic Sea, which saw Axel Tréhin and Fred Denis (Project Rescue Ocean) score their first victory on the Class40 circuit.
A month later, the Class40 fleet gathered for Les Sables – Horta. With the traditional stopover in Horta cancelled, the fleet had no choice but to race the full 2450 nm non-stop. However, for the purposes of the European Trophy, there were also separate rankings for the outbound and inbound "legs".
The Project Rescue Ocean duo once again took victory on the outbound "leg", but Valentin Gautier and Simon Koster were the fastest on the way back.
The biennal Rolex Fastnet Race saw Antoine Magré and his Franco-British team crowned in a race that took them a little over three days.
The second edition of the 40 Malouine Lamotte, the final event to count towards the Trophy, was to be the decider for the five boats at the top of the leaderboard. It was Antoine Carpentier who won in St Malo, clinching the 2021 European Trophy title in the process.
Of note too was Mathieu Claveau's commendable performance on his 2009 Akilaria "Prendre la Mer Agir pour la Forêt", finishing 19th in the Trophy ranking and first Vintage.
Next up is the Transat Jacques Vabre Normandie Le Havre, starting on the 7th of November, which will see 45 Class40s on the start line. The outcome of this race will determine the overall 2021 Class40 Champion.
European Trophy results
Antoine Carpentier (Redman) – 374 points
Valentin Gautier & Simon Koster (Banque du Leman) – 363 points
Luke Berry (Lamotte – Module Création) – 357 points
Olivier & Antoine Magré (E. Leclerc Ville La Grand) – 332 points
Axel Tréhin & Fred Denis (Project Rescue Ocean) – 306 points.
Full results : https://www.class40.com/modules/kameleon/upload/1europeantrophy2021.pdf
CIC Normandy Channel Race:
1. Axel Trehin & Fred Denis (Project Rescue Ocean)
2. Luke Berry & Achille Nebout (Lamotte – Module Création)
3. Antoine Carpentier & Pablo Santurde del Arco (Redman)
Les Sables – Horta:
1. Axel Trehin & Fred Denis (Project Rescue Ocean)
2. Antoine Carpentier & Mikael Mergui (Redman)
3. Ian Lipinski & Ambrogio Beccaria (Crédit Mutuel)
Horta – Les Sables:
1. Valentin Gautier & Simon Koster (Banque du Leman)
2. Ian Lipinski & Ambrogio Beccaria (Crédit Mutuel)
3. Antoine Carpentier & Mikael Mergui (Redman)
Rolex Fastnet Race:
1. Antoine Magré (E. Leclerc Villa-la-Grand)
2. Valentin Gautier & Simon Koster (Banque du Leman)
3. Luke Berry (Lamotte – Module Création)
La 40 Malouine Lamotte:
1. Antoine Carpentier & Pablo Santurde del Arco (Redman)
2. Jean Galfione & Alan Pennaneac'h (Serenis Consulting)
3. Luke Berry & Ronan Floch (Lamotte – Module Création)