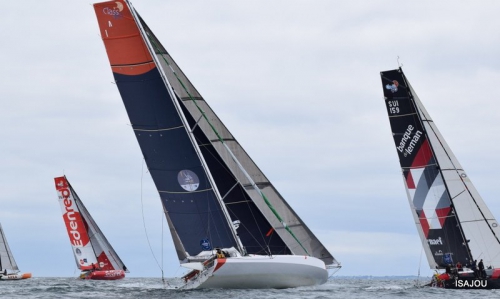 © Isabelle Journiac
This year, 7 Class40s took the start of the Armen Race Uship, a traditional event during the Ascension weekend in Southern Brittany.
Nicolas d'Estais and his crew set off on Thursday 26 May in the early afternoon, with 12 knots of wind and under an overcast sky, for a 245 nm crewed race along the Atlantic coast, from the Chaussée de Sein to Belle-Île. They quickly took the lead of the fleet and passed all the marks of the course in the lead. Just behind them, the race was in full swing and it was only 2 hours and 15 minutes that separated the first from the sixth at the finish. Fuji, the only Vintage, will finish 1h30 later.
Nicolas d'Estais: "It was a great race, a great course. It's quite nice to race against other boats, both IRC and Ultimates! We were overtaken by Actual and Sodebo on one hull, which was quite impressive... and it's good publicity for our boats (we finished 2nd overall in monohulls)!
There was a good match, especially against Edenred, Banque du Léman / CER and Bleu Blanc who had a great race. We managed to hold on despite breaking our mainsail halyard on the last leg. We finished with the spinnaker halyard and the mainsail with 1 reef!
It was not the race of the year but it feels good to win it. It gives us confidence after a rather catastrophic Normandy Channel Race!
The next one will be the Drheam Cup in July."
Manu Le Roch: "It was endless up there, the virtual Uship mark was in the axis of the wind that there was little, in the axis of the swell ... We thought we would never make it!
The return was not fast either because the downwind was slower than expected. The wind finally came back last night around 10pm under Belle-Île, and we are back in the game! As soon as there is wind, the boat goes fast and even faster than the others, but in light airs we don't have an advantage. I'm very happy to finish second, it was a close race right to the end with the Swiss from Banque du Léman who finished just behind us. They have the same boat as us and they were crewed. A good satisfaction. It's great that SNT can organize beautiful events like this with nice boats, bravo to them!"
General ranking: Armen Race - Class40