News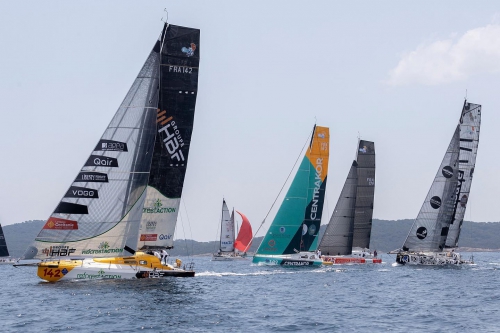 The first solo race in the Mediterranean Trophy and 2022 Championship program, Au Large de Saint-Tropez was the first time Class 40s were present. The 600-mile round trip between the French Riviera and Menorca was a success.
The five Class40s set off on Wednesday, June 1, expecting to have a good fight on this demanding course with complicated weather forecasts. If HBF - Reforest'action (K. de Pavant) was the first to cross the start line, it was Mikael Mergui on his brand new Centrakor who quickly took the lead of the fleet, from the first night, with little wind.
The blue and yellow boat held on to first place until Minorca as it passed the gate imposed by the course, but problems with the autopilot forced it to stop temporarily and the way was opened up to Kito de Pavant who maintained his leadership until the finish line.
Mathieu Claveau on his Class40 Vintage Prendre la mer Agir pour la forêt can be proud of his race as he took 3rd place overall. The 2009 Akilaria held its own against 4 much more recent boats!
Laurent Camprubi (Berkhem group) and Jean-Pierre Balmes (fullsave) finished respectively 4th and 5th, only a few hours ahead of the first. A good omen for the rest of the season!