In short
6 Class40 took the departure of the Cherbourg Race, Friday septembre 4th , in Cowes.
Victory of David Pearce and his crew on the Class40 #82 Forty Shades of Grey after 75 nm of racing.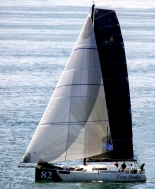 Phillippa Hutton-Squire (Concise 2) and her feminine crew, rank second and CRENO Moustache solidaire took the third place on the podium.
Concerning the Vintage, Arwen (#23) rank first, Sensation Class40 (#26) takes the second place and Rififi (#45) complete the podium