In short
Gonzalo Botín and his team (Pablo Santurde, Antonio Piris, Carlos Ruigómez et Nacho Postigo) took 16h 26min and 29sec to win the first race of the 2016 season!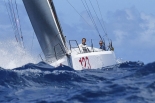 Mikael Ryking, skipping Talanta (#95) for the first time arrives second.
The team CRENO Moustache Solidaire (#98), Thibault Hector et Morgan Launay, took the third place of the podium.

Voiles 44 (Rodolphe Sepho) arrives 4th followed by Mussulo 40.
Crew :
Talanta : Jesper Hoffstedt, Karl Jungstedt, Kate Moore, Mikael Vesala.

Creno Moustache Solidaire :Christophe Bachmann, Emmanuel Perron, Marco Prime.

Voiles 44 : Thierry Martias

Mussulo 40 : Leonardo Chicourel , Paul Peggs