In short
4 Class40 lined up for the start of Myth of Malham on Saturday May 28th.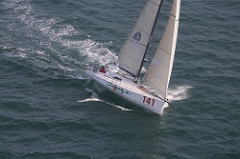 The route is extremely simple, in the form of a return trip between Cowes and Eddystone.
The Dutchman Adriaan Van Oord, skipper of Moonpalace (#141) won after 36h of race.
Less than 10minutes after, Partouche (#113), skipped by Christophe Coatnoan, lined up the finishing line.
Concise 3 (#93) complete the podium, followed by Arwen (#23).