In short
Gonzalo Botin, Pablo Santurde del Arco, Antonio Piris and Carlos Ruigomez win this transatlantic in 11d 22h 42mn 56s
19 Class40s lined up for the start, in Québec, on July the 10th.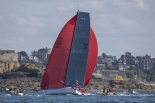 Sailing up the Saint Laurent was incredible from sporting and environmental point of view and the Atlantic crossing under spinaker permits to establish the new speed record in 24 hours.
But the arriving in the Channel looks like a new departure : only 20nm between the 1st and the 5th.
Finally, Tales 2 crossed the finish line first, followed by Generali Horizon Mixité (Isabelle Joschke / Alain Gautier / Pierre Brasseur) 1h30 later.
The battle for the 3rd place lasted until the end between Solidaires en Peloton ARSEP, Cora-Moustache Solidaire and Eärendil.
Finally Catherine Pourre / Antoine Carpentier / Pierre-Loïc Berthet and Stéphane Geslin took the third place, 24 seconds before Thibaut Vauchel-Camus'crew and only 5 minutes before Jules Bonnier's crew.
The results
http://www.class40.com/fr/courses/137-transat-quebec-saint-malo.htm
Photos
http://www.class40.com/fr/galerie_photos/