In short
19 Class40s lined up for the start of the Transat Québec Saint-Malo including 3 vintage boats : #42 (Montres Michel Herbelin), #60 (Obportus) and #73 (Sirius).
After 15d 9h 31mn 2sec, Christophe Souchaud, François Lassort, Thomas Lassort and Jean-Baptiste Hallo crossed first the finish line aboard Montres Michel Herbelin.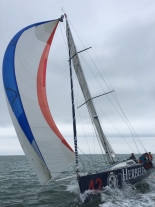 Obportus (Olivier Roussey, Philippe Burger and Jean-Marc Toupance) crossed the line in 2nd after 15d 9h 31mn 2sec, despite a return to Quebec for repair.
The crew from Saint Pierre et Miquelon (Stéphane Bry, Antoine Lacasse, Frédéric Audoux and Marc Menant) takes the third step of the podium on Sirius. They finish their first race in Class40 in 16d 12h 10mn 46sec.