In short
Third victory for Tales in 2016 !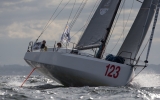 27 Class40 lined up for the 7th edition of the Normandy Channel Race on sunday september the 11th.
After 4 days 17 hours, 41 minutes and 54 seconds, Pablo Santurde del Arco and Fidel Turienzo arrive only 2 minutes and 40 seconds before Phil Sharp and Sam Manuard on Imerys who led the race for several days.
Maxime Sorel and Hugo Dhallenne (V and B) complete the podium; a fine third place after a difficult season .
Solidaires en Peloton ARSEP (Thibaut Vauchel-Camus and Fred Duthil), with her 4th place, win the 2016 Class40 championship.
To note as well :
- the nice 5th place of Sensation Class40 (Marc Lepesqueux / Laurent Pellecuer). First race for the Sabrosa 40 since loosing her keel on the 2014 Route du Rhum.
- the 10th place of Groupe Setin (Manu Cousin / Rémi Aubrun), the oldest boat of the fleet who stayed in the top ten all along the race.
- the perseverence of Simple VE (Bertrand Lemée / Philippe Magliulo) who will finish the race even if they know that they will be out of time limit.
Le ranking:
http://www.class40.com/fr/courses/139-normandy-channel-race.htm