In short
The 11th of April, Rune Aasberg made a new singlehanded record on board Solo 2 (#142) between Faerder lighthouse (Norway) and the east boy just outside Skagen (Denmark), one of the most norvegian popular route, a theorical distance of 78 n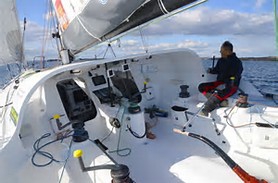 The main objective was to establish a new Class40 reference time. The time to beat was around 12 hours set by an old 32 foot slow boat.
Solo 2 took 7 hours 37 minutes ans 18 secondes when there was hardly 15 knots of wind but ,as the wind shifted to the South-West during the end of the crossing, the conditions were ideal to turn back… and establish a new reference time !
Finally Solo 2 took 5 hours 40 minutes and 55 secondes to cover 88 nm at an average speed of 15,4 nds, thereby setting a new reference time.
Sources
https://www.seilmagasinet.no/innhold/regatta/?article_id=48450
http://sejlernews.dk/solosejler-saetter-rekord-skagen-til-faerder/