In short
The Grand Prix Guyader took place in Douarnenez between April 29th and May 1st.
9 boats lined up for the start.
Imerys'crew (Phil Sharp, Pablo Santurde del Arco, Robin Marais, Arthur Levaillant and Corentin Douguet) won after 3 days of intense inshore races.
Imerys and Serenis Consulting (#125 - Jean Galfione)had the same number of points le last morning!
Phil Sharp:
"First victory, that was great! Wind, water and fun.The Grand Prix Guyader is great to start the season with people on board. We can push the boat to the maximum! It's a different concept inside the championship.
The level of the competition was high. It was incredible!
The last day, we were 6 on board, our crew plus one from Oman. Thanks Oman helping! With 25 knots of wind that was great to be 6!
The ranking:
http://www.class40.com/fr/courses/160-grand-prix-guyader.htm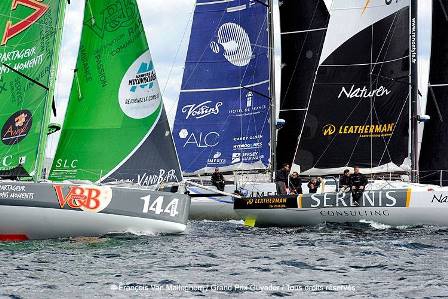 © François Van Malleghem