In short
The departure of the Normandy Channel Race, coefficient 2 was given on Sunday 14th of May.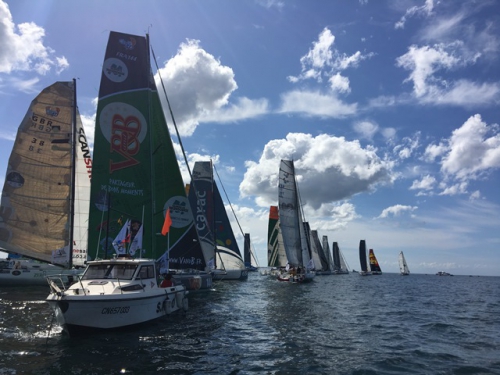 24 tandems took the departure in Ouistreham Bay with light wind but under the sun, offering a beautiful spectable.
V and B #144 (M. Sorel / A. Carpentier) got off the best start, like Fuji #38 (A. Kansakoski / M. Maki).
After a spectacle-tour of about 6nm, Moonpalace #141 (R. Franssens / M. Kleinjans) was the first on the way to Saint-Marcourf followed by Calvados #83 (C. Pruvot / L. Duc), Normandie-LMax #135 (O. Cardin / C. Chateau), Imerys #130 (P. Sharp / P. Santurde) and Sensation Class40 #140 (M. Lepesqueux / JC Monnet).
They are expected in Caen from friday after a 975 nm theorical course
The registered boats
http://www.class40.com/fr/courses/153-normandy-channel-race.htm
Cartography
http://www.normandy-race.com/index/followrace/gall/131