In short
4 Class40s lined up at the Normandy Channel Race : Fuji #38 (A. Kansakoski / M. Maki), Montres Herbelin #42 (C. Souchaud / F. Lassort), Simple VE (B. Lemée / P. Magliulo) and Team SPM #73 (S. Bry / S. Day).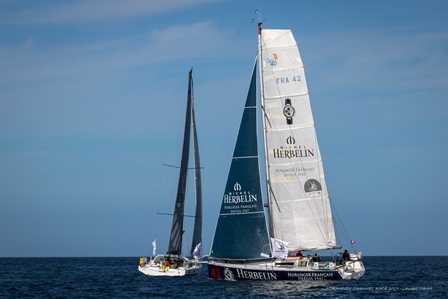 If Simple VE gave up because of a broken low runner only 24 hours after the start, for the other 3 it was a great battle during the 975 nm theorical course.
After 6 days 1 hour 19 minutes and 16 secondes, Montres Herbelin climbed to the top of the vintage podium after a 1147 nm course at an average speed of 7,89 knots. C. Souchaud and F. Lassort are 17th overal.
François Lassort,on the finish line: "Very nice race ,the most difficult race I ever ran on physical and technical points. Wonderful! Nice places even if we passed Tuskar, Fastnet and Scilly in the dark. Montres Herbelin is the first Vintage, an important ranking inside the Class40".
Fuji is 2nd after 6 days 7 hours 40 minutes and 57 secondes. The Finnish duet covered 1165nm at an average speed of 6,68 knots.
Team SPM arrived in 3rd position after 6 days 8 hous 7 minutes and 1 seconde. The skipper Stéphane Bry, from Saint Pierre et Miquelon was racing with the American Simon day. They covered 1151nm at an average speed of 6,38 knots.