In short
The Normandy Channel Race, now a classic Class40 race, started on Sunday 14th of May in Ouistreham Bay and has kept its promises.

24 boats lined up for this 975nm theorical route (Caen/St Marcouf/Ile de Wight/TuskarRock/Fastnet Rock/Guernesey/Caen)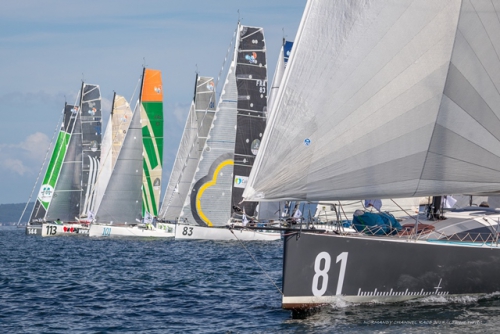 Those who crossed the finish line (19 among 24 - 5 boats gave up) found what they hoped : good atmosphere in the marina and incredible race depite the sails which torn and many small problems.
The British/Spanish crew of Imerys (Phil SHARP and Pablo SANTURDE) climbed on the top of the podium. Serenis Consulting ,#125 (Jean Galfione and Nicolas TROUSSEL) arrived 2nd, 2h 31min after. V and B, #144 (Maxime SOREL and Antoine CARPENTIER) complete le podium.
A lot of fun for everybody until the end and only fews minutes between the boats on the finish line, 5min 24sec between Evernex (#148) who arrived 4th and Calvados (#83) who arrived on 6th position...and Campagne de France (#147) between them! Or 5min and 2sec between the 11th and 12th, Azeo (#98) and Solo 2 (#142).
About the Vintage, Montres Herbelin (#42) arrived fisrt, Fuji (#38) is 2nd and Team SPM (#73) arrived in 3rd position.
No doubt that they will be present in May 2018 , for the 9th edition!
The ranking
https://www.class40.com/fr/courses/153-normandy-channel-race.htm