One Ocean, one Woman, one Man, one Boat…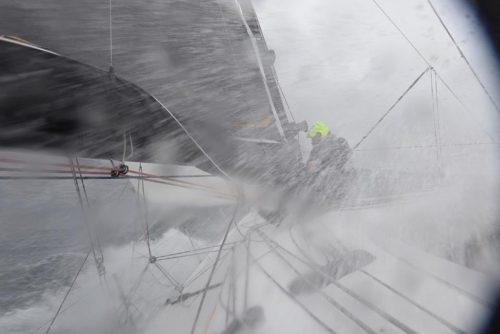 Mikael Ryking (SWE) and Irina Gracheva (RUS) wanted to establish a new World Record between St Davids Lighthouse, Bermuda and the breakwater lighthouse at the entrance of Plymouth (first monohull to do the course).
Followed by the World Speed Sailing Record Council, they took off at 23:39 local Bermuda time on June 1st.
More than 30 knots the first hours and close to 20 knots of boat speed, then racing with a tanker and a cargo ship during about 6 hours at an average speed of 16,33 knots, the medium spinnaker ripped into pieces the second night… this lead them to fall behind one of the weather systems they were supposed to join for a longer time.
After 1000nm sailed in 4 days, the conditions changed for cold waters, the Labrador current and wind above 30knt again… and another spinnaker in multiple pieces !
June 10th. Game of highest speed won by Mikael : 31,7 kts ! But that happens after a strong storm, wind topped at 58 knts and 10 meter wawes. 860nm left to go. No more jib, no more spinnakers. No sails to sail on 100%. An autopilot broken and everything wet…
Finally, they didi it ! 13 days, 5 hours, 19 minutes and 38 secondes at an average speed of 9,04 kts to be the first to set the monohull record.
Source :
https://www.facebook.com/rykingoceanracing/
https://share.garmin.com/talanta
https://sailspeedrecords.com/news/223-wssr-newsletter-no-288-talanta-bermuda-to-plymouth-monohull-22-06-17