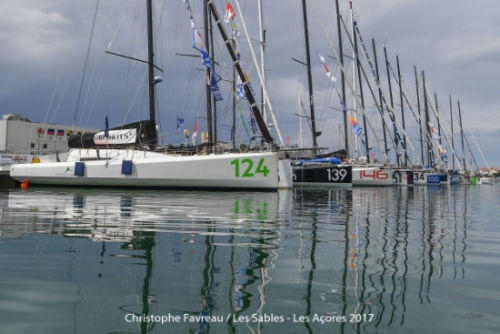 @Christophe Favreau / les Sables Les Açores 2017
The 19 competitors all arrived in Port Olona.

The program of this classical race of the Class40 circuit :

- Start of the first leg at 0102 PM on Sunday July 2nd in Les Sables d'Olonne Bay.

- After a short coastal route in front of the beach, they'll head to Horta where they should arrive after 6/7 days.

- A few days of well deserved rest in the Azores where some crew will take the opportunity to change their co-skipper.

- Start of the second leg on Friday July 14th.

- The first should arrive in Les Sables d'Olonne on July 19/20 (in 2015, Le conservateur #142 (Y. Bestaven / P. Brasseur) covered the 1270nm in only 4 days 17h at the average speed of 11.2 knots)

- Prize giving ceremony will take place on Saturday July 22nd.

Among these 19 boats, 6 are vintage : Fuji (#38), Montres Michel Herbelin (#42) – winner of the last Normandy Channel Race and transat Québec Saint-Malo in this category , Palanad II (#43), Simple VE (#50), Transport Hesnault-Cabinet Z (#61) et SPM/Gwada (#73).

These 6 duets decided to have dinner together to discuss the race and the vintage ranking that they would like to promote. A real emulation in this group !

To note also that 8 nationalities are represented : France, Great Britain, Japan, Oman, Germany, Spain, Italy, Finland. No doubt that the Class40 is resolutely international !

To follow the race :
https://www.facebook.com/SablesHorta/