In short
Today, Saturday July 1st, the Island Sailing Club organized the Round the Island Race.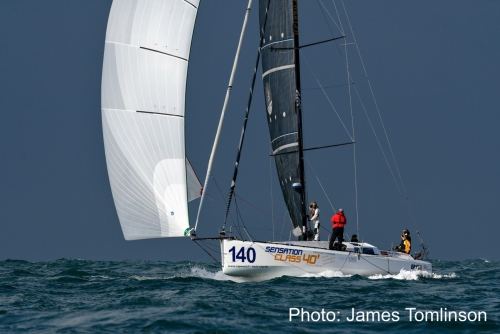 © James Tomlinson
1342 boats lined up for this 50 nm race and among them 4 Class40s.
Marc Lepesqueux'crew (Sensation Class40 Extreme #140) crossed the finish line first after 6h 34m and 49s, followed by Région Normandie-LMAX (#135) skipped by Benoit Charon and Concise 2 (#93) and her new owner Simon Costain. James Close on Fortissimo (#97) arrived in fourth position only 23 minutes and 13 secondes after the winner.
Results:
1.FRA 140 Sensation Class40 Extreme 06 :34 :49
2.FRA 135 Région Normandie – LMAX 06 :37 :25
3.GBR 93 Concise 2 06 :56 :22
4.GBR 97 Fortissimo 06 :58 :02