In short
19 Class40 lined up for the start of the third race of the 2017 Class40 championship.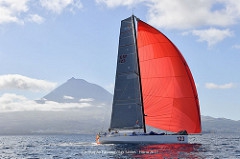 After a short race around Les Sables d'Olonne's bay, Transport Henault – Cabinet Z #61 (Cédric de Kervenoael / Robin Marais), was in the lead of the fleet. The boats were then on their way to Horta.
A 1270 nautical miles route with various wind conditions.
Once again, the spanish duet Tales II #123 (Pablo Santurde Del Arco / Gonzalo Botin) wins after 5 days 23 hours 5 minutes and 42 secondes (average speed : 8,89 kts). The leg is won but the competition will still be interesting for the general raking as the British-French team of Imerys #130 (Phil Sharp / Corentin Douguet) arrived only 43 minutes and 40 secondes after them. The german-french team of Stella Nova #134 (Alexander Krause / Antoine Carpentier) completes the podium.

To note, the excellente performance of the Italians of Colombre XL #101 (Massimo Juris / Pietro Luciani) on their Pogo S2 who finished fourth and is now third of the provisionnal ranking of the 2017 championship.Serenis Consulting #125 (Jean Galfion / JC Caso), first French boat, finished fifth. They are followed by Oman Sail #139 (Sidney Gavignet / Fahad Al Hasni) who, despite their bowsprit's breakage, ranked sixth.

Concerning the Vintages (6 of the 19 boats), #61is the first to arrive in Horta after 7 days 3 hours 24 minutes and 09 secondes. Montres Michel Herbelin #42 (François Lassort / Christophe Souchaud) are second but there is 11 hours between them. Palanad II finished third in this category.

The complete ranking :
http://lessables-horta.geovoile.com/2017/mainboard/?leg=1
The start of the second leg will be given Friday, July 14th at 07:00pm (french time).