In short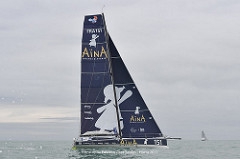 17 Class40s left Horta on July 14th for their return route to les Sables d'Olonne.
Eärendil and Obportus IV gave up. Eärendil because of a broken mainsail and Olivier Roussey because he had no co-skipper (Philippe Burger had to fly back to France for personnal reasons). Olivier head to Les Sables a few hours before the fleet …A good training for the Route du Rhum !
Once again the skippers encountered a variety of weather conditions : no wind at the start to cross the Azores high then a North route and finally, after 48 hours, fast reaching to Les Sables.
Aïna Enfance et Avenir (A. Chappellier and A. Le Vaillant) was the faster almost from the beginning realizing an amazing average speed such as Imerys (P. Sharp and A. Hardy) and Tales II (P. Santurde and G. Botin). They all sailed at more than 17 knots for several hours.
#151, the new Mach 40.3, launched in the midle of June, has surprised its competitors !
Great race for the vintage also ! 3 of them, Transport Henault-Cabinet Z, Palanad II and Montres Herbelin) raced near the recents boats for more than 48 hours.
Cédric de Kervenoel and Rémi Beauvais, win this second leg, followed by Palanad II and Montres Michel Herbelin. # 43 took finally a 24h penalty for having changed its spi in Horta.
The ranking of the second leg :
http://lessables-horta.geovoile.com/2017/mainboard/?leg=2