In short
More than a transat, the 2017 edition of the Transat Jacques Vabre looked like a « transatlantic marathon »!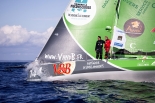 © Easy Ride
After many lead changes and 3 abandonments, the Class40s offered an amazing final !
One hour before the end of the race, it was impossibe to produce a clear picture of who will be the winner because a single mile separated V and B (Maxime Sorel and Antoine Carpentier) and Aïna Enfance & Avenir (Aymeric Chappellier and Arthur Le Vaillant)
Finally, the green boat crossed the line first, after 17 days and 10 hours, only 17 minutes before the second, breaking the previous record on this race by 5days !
Fierce racing also between the other boats proving that the « smallest » Class of the Transat Jacques Vabre is really interesting !
Overall ranking
https://www.class40.com/fr/courses/157-transat-jacques-vabre-.htm
More information
https://www.transatjacquesvabre.org/