In short
Mathias Mueller von Blumencron's Red is the winner of the Class40 Division for the RORC Transatlantic Race.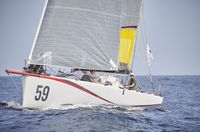 Red completed the race in an elapsed time of 15 days 17 hours 25 mins 25 secs to take a hard-earned victory from Berthold and Tobias Brinkmann's MarieJo, which was just under nine hours behind. The Class40 lead had changed hands at least three times during the race, but it was Red with a young but very experienced crew that has been together for many years and raced thousands of miles, that took the Class win.
"For three of us this is our second transatlantic race in this boat. It is a great team and we have fun together," commented von Blumencron. "This was a very tactical race. Right from the start we were upwind for almost 500 miles. We did make a big tactical mistake mid-Atlantic when we went south too early to try to cross 'Death Valley' as we called it. MarieJo got 70 miles ahead of us so we had to catch them. Eventually the easterly breeze arrived and the downwind slide began. 48 hours from the finish we had a really squally night with tough racing in 35 knots of wind. In contrast, the last night was so peaceful - a wonderful way to end a great race."
Mariejo (#138) skipped by Brthold and Tobias Brinkmann crossed the line about 8 hours later.
information source: http://rorctransatlantic.rorc.org/race-updates/monday-rush-hour-in-the-rorc-transatlantic-race.html