In short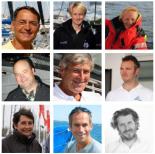 The Class40's 2017 AGM took place in Rennes on Saturday January 27, 2018.
After the meeting the new board was elected.
Phillippa Cavanough, Halvard Mabire and Maxime Sorel were re-elected.
Bertrand Delesne is joining the executive committee for the first time.
The 2018 Board of Directors renewed its confidence in the 2017 Board, re-electing Halvard Mabire as President for the fourth consecutive year, Catherine Pourre as Treasurer and Jacques Fournier as General Secretary.
More information about the committees :
https://www.class40.com/fr/conseil_administration/