In short
For its 9th edition, The Route Halifax (Nova Scotia - Canada) Saint Pierre et Miquelon (France) creates a Class40 ranking. The start of this crewed race of 360nm will be given on June 26th.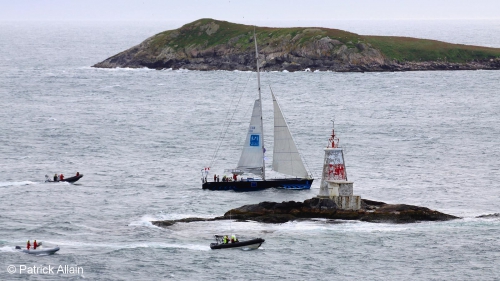 © Patrick Allain
To welcome the Class40, by registering with the race, the organization offers the team:
⇨ media coverage thanks to a video team and broadcasts on France Television's channels
⇨ a special category dedicated to Class40 crewed
⇨ An endowment of 3,000 Euros for the winner, 2,000 Euros for the second and 1,000 Euros for the third plus many other gifts from the inhabitants of Saint-Pierre and Miquelon.
⇨ An allocation of 6.000 Euros for the Class40 which will be able to improve the record of the ROUTE HALIFAX SAINT-PIERRE, race of 360 miles. Record owned by the Canadian Derek Hatfield in 2010 with a time of 29h-43mn-56s.
⇨ Since the race usually takes place downwind and reaching, this record seems within the reach of a Class40.
⇨ Free all-inclusive welcome to the Halifax Waterfront Marina in the city center from June 15, 2018 until the start of the race on June 26.
⇨ Free all-inclusive welcome to the marina of Saint-Pierre during the stopover.
⇨ The "parrainage" of your boat by a local family.
⇨ The organization of a transatlantic "reference race" ROUTE SAINT-PIERRE / SAINT-MALO in continuity of the ROUTE HALIFAX SAINT-PIERRE with the retention of each Class40 YB Tracking positioning beacons, a regular media monitoring, a start and a finish line. The aim of this reference transatlantic ROUTE SAINT-PIERRE / SAINT-MALO dedicated to Class40 is to establish a reference time between these two ports. This Class40 reference time will be used as the basis of the record to be beaten by a Class40 at the Transat Québec Saint-Malo 2020. Record Class40 which, if it is beaten in 2020, will be endowed with a consequent price by our organization to this occasion.
If the 2018 edition is a success, the organization will propose different races in 2020 to link The Transat, The Atlantic Cup and the Transat Quebec Saint-Malo.
The website
Contact