In short
With Sea Events, the Class40 organized a full day training session for embarked videos, on March Saturday 17th.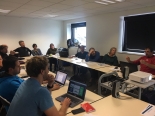 Sea events is in charge of the video for many races like the Transat Jacques Vabre or the Route du Rhum and is also working for many teams
Day programme:
- Explanation of the audiovisual appendices: official document which regulates the production of images , signed by competitors and the race organizer . To note that the videos made by a skipper belong to him but he must allow the organizer to use them for a period of time written in the contract, usually 10 years. In return, the videos made by the race organization are free of rights for the teams and medias.
- Technical basis:material (cameras and software), format and sending of videos.
- Editorial point of view: the 5W(Who, What, Where, When, Why), the importance of a good sound quality,…
Detailed minutes of this session are available for the Class'members.