A breathtaking finish after a very intense race… Only 6 seconds between Imerys #130 and Carac #150 !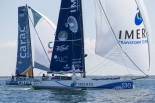 27 Class40s crossed the starting line of the 9th edition of Normandy Channel Race.
This race, usually windy and very sportive, was very different this year, especially in the Irish Sea. Very little wind during the 24 first hours and the fleet was split in several groups from the 2nd day. And those stopped in the Solent will not be able to come and play again with the rest of the fleet.
We lived such an incredible battle in the peloton !
Leaders changing several time a day until the end !
A few hours before the finishing line there are only 3 pretenders to victory: Aïna Enfance et Avenir #151 (Aymeric Chappellier – Fabien Delahaye), Carac #150 (Louis Duc – Gwen Riou) and Imerys #130 (Phil Sharp – Julien Pulvé).
Because of a lack of wind the Mach40.3 duet allows Carac and Imerys to hold on for the win. They will finish on third position. But until the end, the suspense is growing and finally Phil Sharp, 2017 Class40 champion and winner of the previous edition, crosses first the finish line, only 6 seconds before Carac !
On the vintage side, only 2 boats took the departure. After Bijouteries Lassort – Tonton Louis (François and Thomas Lassort) gave up for technical reasons, Grizzly Barber Shop – Cabinet Z (Cédric de Kervenoael – Robin Marais) won the vintage ranking and arrived 10th overall.
This edition, with very little wind, was a very difficult and stressful race. The first needed 6 days to race the 1000nm…..a record of slowness!
The ranking
https://www.class40.com/fr/courses/155-normandy-channel-race-.htm
More information, photos and videos
https://www.facebook.com/normandy.channelrace/